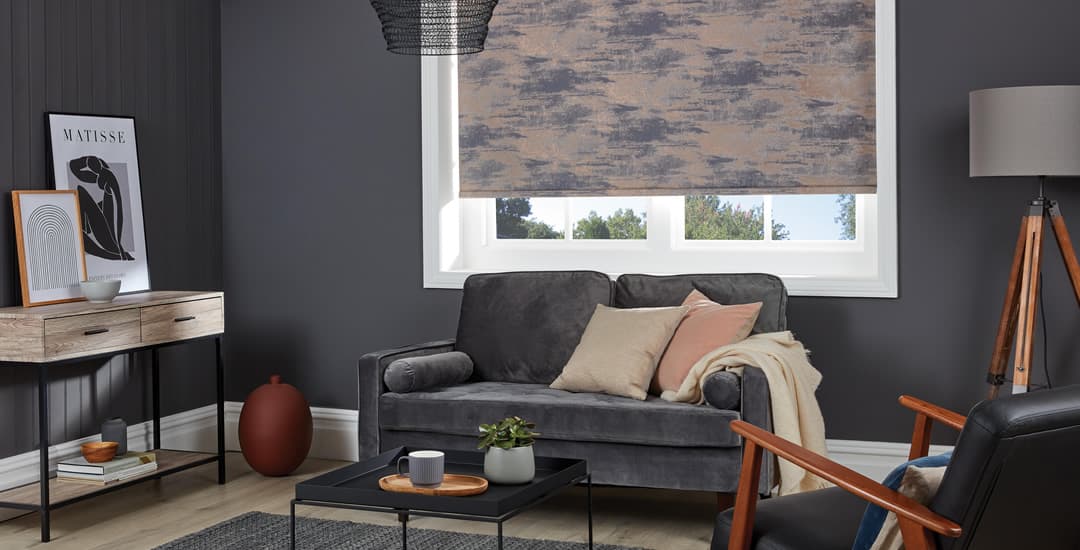 Hey look, it's 2022 folks! And in another three months or so my typing/writing finger will probably have caught up with this fact and stopped erroneously writing "2021" at every relevant juncture as well.
Obviously unless you're very rich and very bored, you're probably not the type to redecorate your home or replace your window blinds on an annual basis; but in case you were in the market for a refresh anyway (or are indeed very rich and very bored – and if the third point on that triangle is "very single," then feel free to hit me up) you might be wondering what colours, styles, and interiors trends are on the up in 2022.
In this blog post, I'll cover what's new in window blinds for 2022, and look at what's hot in interiors in general for the year ahead as it pertains to blinds. As window blinds are, for most of us, a medium to long-term investment, I'm going to try to stick to styles and approaches that are likely to endure for five-plus years and age well without appearing cliché or dated in short order… Unlike those gilt lacquered ceramic pineapples I'm sure none of us and definitely not me had on our coffee tables for way too long.
So, what's hot in window blinds and interiors in general for 2022?
Very Peri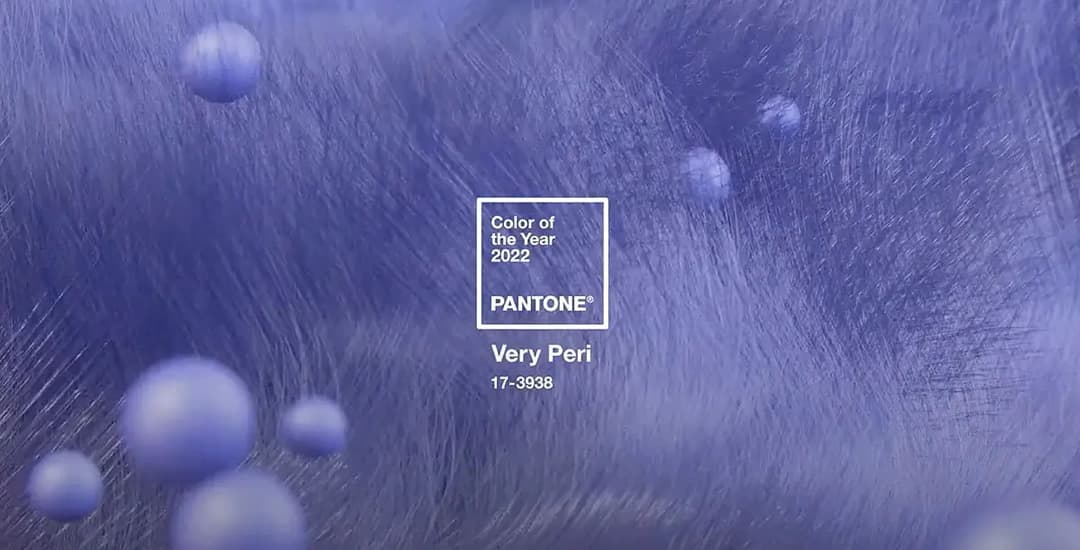 It speaks to the amount of money I spend in Nando's that when I heard that the Pantone colour of 2022 is called "Very Peri," I immediately imagined a rich spicy dark orange shade, a'la the chicken seasoning at said establishment.
Imagine my surprise then, upon learning that "Very Peri" is in fact a bright and frankly, borderline jarring shade of lilac/violet.
I have mixed or conflicting feelings on this one; when I first saw it I was like "oh, cool!" But shortly afterwards I was like, "they should call this one eye strain" and then a bit after that I was like, "actually it's ok in small doses;" and this appears to be where my wheel has finally stopped.
For my money, a whole large window blind in this shade would work in only a very small number of spaces, and even then, maybe only if they were inhabited by someone with poor eyesight and a preference for dim lighting. It's the kind of colour that in large swathes, will absolutely take over a room and suck all of the other energy in it into a vortex; it's like the annoying girl at school who pretty much runs around screaming "look at me, I'm obnoxious."
WAIT. It's Violet Beauregarde.
However, as a blind for a small window in an otherwise large room, or as a splash or accent of colour, Very Peri actually has a lot going for it.
Also, if you just hit the "down" button on Very Peri's volume control a couple of times to give it a bit more depth in the bass notes, you're left with a genuinely nice dark blue-purple shade that would work perfectly well in both large and small quantities as well as being bang on trend; our Gala Empire roller blind being a good example.
Day and night blinds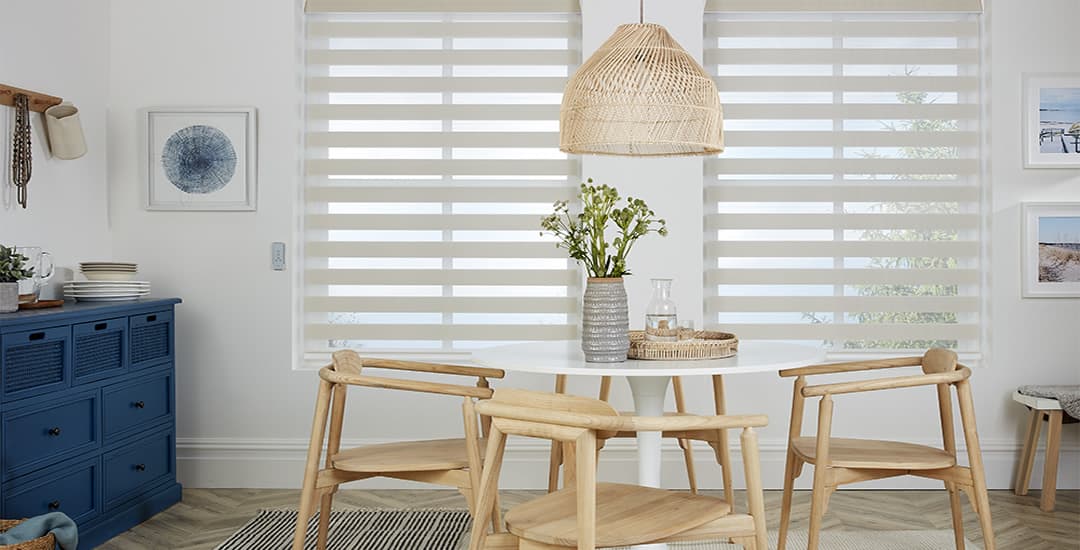 In terms of actual window blind styles, what is there to say there? it's not as if there are whole new blind types that were never a thing before coming to market of late, is it?
Well, actually yes… Enter day and night blinds.
These have been around outside of the UK for a few years now, but have only recently made their first tentative inroads onto our shores.
Also known as zebra blinds thanks to their alternating stripes, day and night blinds don't just have a unique look, but unique design and function too. You can read all about them here; and since we started designing and making day and night blinds towards the end of 2021, demand for them has increased sharply, and they're definitely going to be moving into many more homes over the next 2-5 years too.
Capsule spaces/multiuse rooms
"Capsule spaces" or multiuse rooms really came to the fore thanks to Covid; or more to the point, the work-from-homing and study-from-homing that Covid necessitated.
As most folk who suddenly found themselves in need of a new office plus three classrooms can attest to, many people did not/do not have a spare room they could dedicate to something just like that, and so home offices were just as likely to also be known as "the kitchen table" or "unused corner of the living room" as they were "the office."
Now that the design folk have got their hands on this concept, a consensus has been made that double-duty rooms or switched-up corners of other rooms shall forever after be known as "capsule spaces," which to be fair, sounds far more positive than "we're millennials, and stand no chance of ever being able to afford a home with an extra room in it just because commuting is no longer a thing now."
Home officing isn't the only potential manifestation of capsule spaces either; basically any room that serves double duty with one of said duties being significantly smaller than the other (like a desk in the corner of a room that's otherwise intended for leisure, for instance) is potentially a "capsule space."
So, treadmill or Peloton in the bedroom? Capsule space. Gaming tv in the dining room? Capsule space. Artist's easel in the kitchen? Capsule space.
The key takeaway with capsule spaces is that rather than trying to blend the capsule part into the wider room in an innocuous fashion, you turn the contrast in uses and so, designs, into a feature.
This could be by means of a physical partition or barrier like an interior curtain or shelving unit dividing up the room, by using different colour schemes or designs in the two parts, or even having a different type or style of flooring in the capsule part; or all of this and more.
This means that if you have a window in the capsule area, you'd very likely deliberately choose different blinds (or curtains, if you must) for the capsule part and the main part, which is something that historically used to be very frowned upon in design circles, ie., having mix and match blinds in a room. Well, that's ok now in capsule spaces, so knock yourself out.
Perfect fit blinds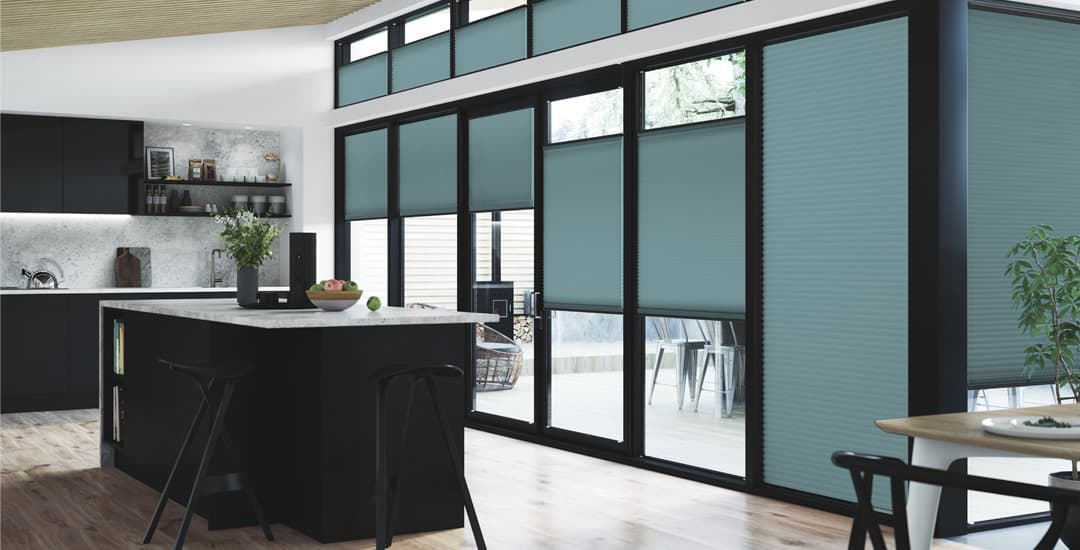 And finally. Perfect fit cellular pleated blinds? To be honest, when I saw these in action for the first time I didn't even recognise them as a type of blinds at all, albeit I would have struggled to say what I thought they were instead!
These are even newer and more exotic than the earlier-mentioned day and night blinds, and are unlike any other blind in multiple ways, the most obvious of these being that they don't hang over the window but instead, slot inside of the frame of it and sit against the glass.
They have a clean, minimalistic look and come in many colour options, and take up absolutely no space outside of the window itself, which has various advantages all on its own. But in terms of functional benefits, they're probably the best insulating window blinds you can buy by quite some margin.
Also, if you choose them in blackout materials, they achieve near 100% total blackout over the window with little possibility of light leakage. Cool.
All of these factors mean that we're seeing tonnnnes of demand for perfect fit blinds from the designers of new-build homes and apartment blocks at the moment, and a healthy level of interest from the owners of more modern existing homes too.