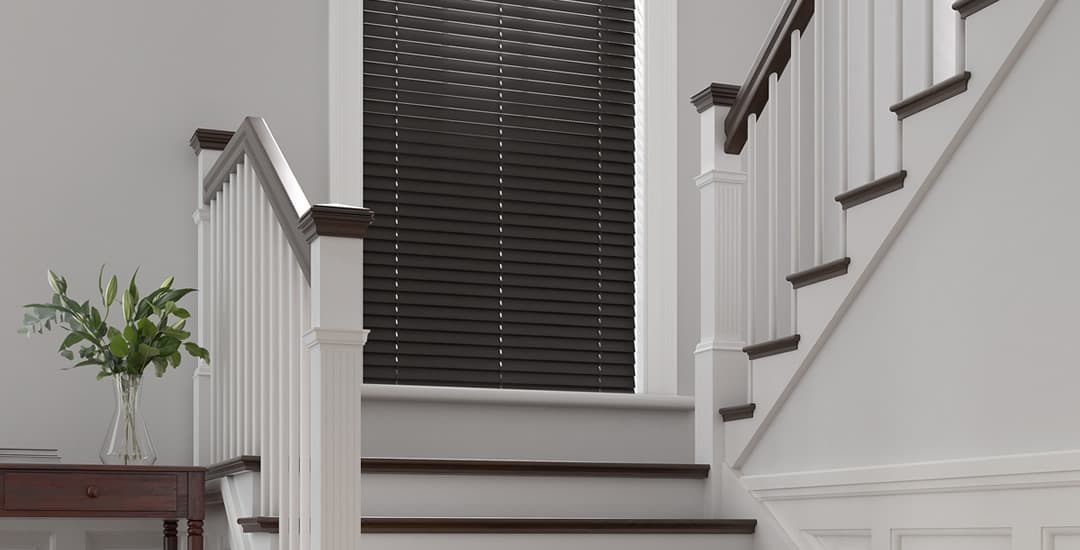 Wooden blinds are pretty much unbeatable in terms of their quality and versatility to fit all manner of styles and interior designs. They're the most eco-friendly blinds too as long as you buy from a manufacturer that chooses sustainably sourced wood and that cares about the communities that grow it and work with it.
Wooden blinds are also one of the more expensive types of window blinds; which means they're a long-term investment, and so you'll want to make choices you're going to be happy with for many years to come when it comes to the style and finish you choose.
So, how do I choose wooden blinds? This blog post will talk you through the various options you'll be presented with when you start browsing for wooden blinds for sale in the UK, and help you to navigate them to make the right decision for your own personal situation.
Made-to-measure wooden blinds vs. readymade: Pros and cons
This is probably the first choice you're going to face if you want to buy wooden blinds. There's a lot to consider in this respect, and what you decide is also going to have an impact on your other choices, potentially opening up many more options with made-to-measure or on the flipside, removing some for readymade.
What's good about readymade wooden blinds?
A bit of a double-edged sword perhaps to kick us off in the "pros of readymade wooden blinds" column; they tend to be cheaper than made-to-measure (yay!), because they're mass-produced overseas (boo!)**
They're readily available to buy as soon as the urge to do blinds takes you, as you can just head to your Dunelm, Argos or wherever and get one off the shelf.
**Whether the "mass-produced overseas readymade wooden blinds are cheap" point actually continues to hold true in the future remains to be seen, given the current uncertainty over our post-Brexit trade deals in terms of import and customs costs, and all the other stuff that's busy hitting the supply chain with a big, spiky club at the moment.**
What's bad about readymade wooden blinds?
In terms of quality, think Shein, not couture. They're built down to a price rather than up to a standard, and are not really built to last in terms of either form or function. They're fast fashion blinds, basically.
On which note, wood for mass-produced low-cost readymade wooden blinds is pretty hard to trace back to source. As is usually the case with fast fashion, not a lot of mind is paid to sustainability, working conditions for producers/growers at the bottom end of the ladder, or the environmental impact of the product.
Readymade wooden blinds come in a limited choice of sizes and finishes. They are also rarely made in large/wide/tall options, and so you may find that this could mean they're off the table as an option at all, which can be particularly annoying for a room with multiple windows if only one window is the issue!
Because readymade wooden blind sellers know that most buyers will need to cut them to size, they don't have steel reinforcements in their headrails, steel being not that easy of a thing to saw through at home for most folk. This makes them not that structurally sound and a bit flimsy; some will even begin to bow in the middle in short order, which is really just inexcusably poor design both aesthetically and functionally.
What's good about made-to-measure wooden blinds?
Firstly that the blind is made specifically for the window in question, and will just fit it without drama.
You get a far greater range of colours, stains, finishes, and choices, as well as a number of options on the width of the slats themselves, enabling you to create just the appearance you want – including choosing a finish that will emulate or match other wooden goods within the room if you want.
They're both crafted to a higher standard and use better quality fixings and fittings, from the tiniest component down to the quality control for the raw wood that eventually becomes your blind itself.
Made-to-measure wooden blinds are (or always should be) ethically grown, forested, and crafted, ensuring that they don't contribute to environmental destruction, but do support their communities. Ethically produced made-to-measure wooden blinds are a sustainable, ecologically sound choice.
They can be made in a huge range of sizes, including blinds for wide, tall, or generally large windows.
What's bad about made-to-measure wooden blinds?
As is the case with anything bespoke-made, made-to-measure wooden blinds will cost more than readymade (although not always as much more as you might think).
Lead time from order to delivery is going to be a bit longer than for readymade blinds that are already, er, readymade, as your blinds will be made and assembled just for you. Even so, this won't run into weeks and weeks. Anyone who ever ordered a sofa from a Boxing Day sale will know why I felt the need to clarify this point…
Wooden blind colours and finishes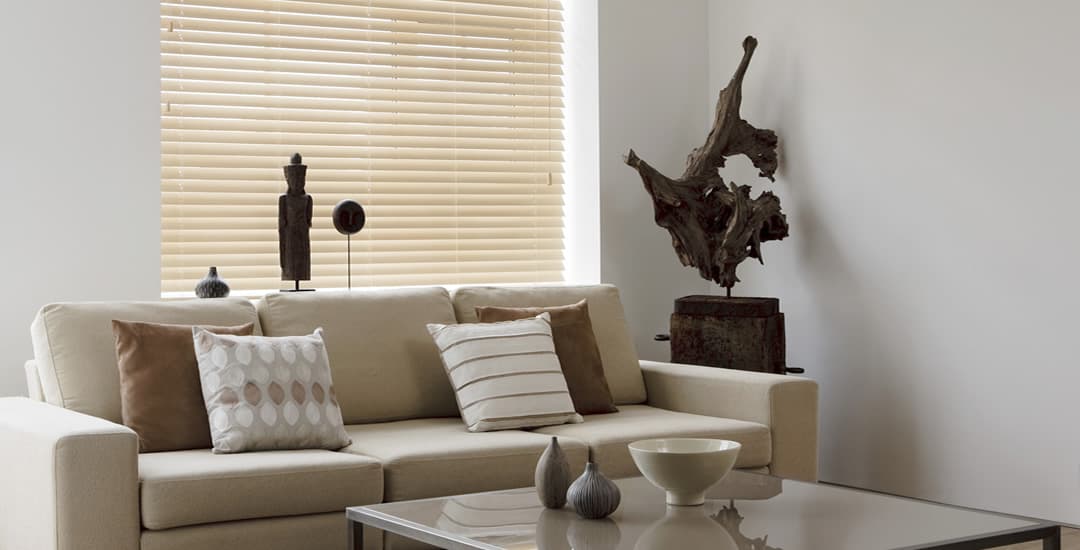 Option number one in terms of finish is whether you're going with a natural wood finish or a painted one.
Overall, the wooden blinds we sell the most of are white or grey, pained to a satin finish.
Neutral shades are always the most popular option for all of our blinds, as they're so versatile, fit all types of styles and decor (and will continue to do so down the line if you totally revamp the room and take your interior in a whole new direction), and also help to make the room look light and airy.
Cream and off-white colours are also always in demand, and can take the edge off a bright or glaring white, and add a little warmth to the room.
Painted wooden blinds can be made in either a gloss, satin, or matt finish.
Natural wood blinds that are stained or lacquered to show off the beauty and grain of the wood are your other choice. These are perhaps the most Hygge window blinds of all; and the stain or finish you choose for your blinds can be selected to match other woods in the room, emulating more or less anything from a light pine to a dark walnut.
Wooden blinds are made from basswood, by the way, because this is light, durable, and lends itself well to sustainable production; which comes as a surprise to many, who assume that different wooden blind finishes reflect different choices of woods.
In or out? (Wooden blind positioning)
There are two options for where you hang and fit your blind, and this is something you need to fix on before you start measuring up! Wooden blinds can either be hung inside of the window recess, or outside of/over it.
Fitting a wooden blind inside of the window recess can provide a neater finish, create a smaller footprint, and if you wish, can be finished or dressed with curtains or voiles outside of the window recess too, in order to style it in a certain way or add to the blackout qualities of your blind.
Fitting a wooden blind outside of the window recess can make the aperture appear larger, but does also mean the blind itself takes up more visual real estate as it has a larger footprint.
Actually putting up or hanging a wooden blind for either option isn't hard and literally anyone who is physically capable can do it and get it right first time by following the provided instructions; but hanging a wooden blind outside of the window recess can be just a shade more fiddly.
Choosing the slat size of your wooden blind
The width of your wooden blind's slats is something else you can pick to suit too; the most common options are 25mm, 35mm, and 50mm respectively. 50mm slats are the most widely chosen option overall. For most people, this is their pick because a blind with 50mm slats has half as many as one with 25mm slats, which means that when the slats are open, it provides a far clearer view of the world outside.
However, big slats can look a bit disproportionate or comedic on particularly small windows, and so people do tend to scale their choices to an extent depending on the window; picking smaller slats for smaller windows and larger options for larger ones.
That said, this is all a matter of personal choice, in terms of both the look you want your blind to achieve and the type of view you want to retain through the window when the blind is lowered but the slats are open.
Decorative tapes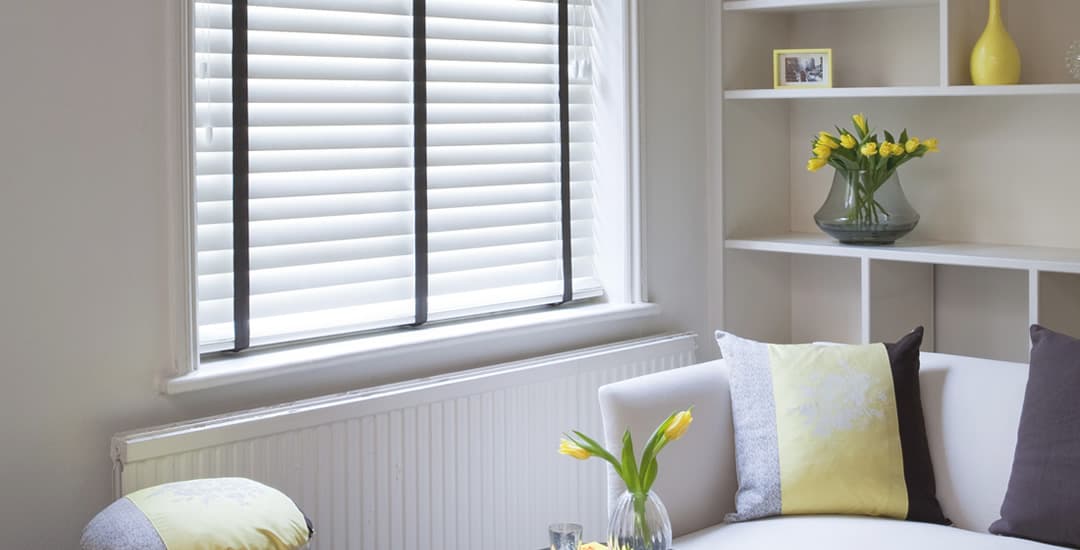 You can choose to have your wooden blinds made with decorative ladder tapes (the fabric bits that string the slats together) or without; those without have a less obvious-looking and more functional string holding them together instead.
Traditionally or over the long term, we've found that most of our buyers pick wooden blinds without tapes, but tapes have gained in popularity a lot over the last few years too.
This is another personal choice, with no functional advantage or disadvantage one way or the other.
Generally, if you want to make the wood of the blind itself the star or focal point, no tapes is the way to go. If you're keen to add depth or softness to the blind, or texture and the interplay between textures is part of your design ethos, decorative tapes should definitely be on the table.
Colour-wise, decorative wooden blind tapes can either match and blend the colour of the wood you choose, or contrast with it, once more being entirely a matter of personal choice.
One final point to bear in mind here is that the wider your blind, the more tapes it will have; a 180cm wooden blind (one of our wider ones) would incorporate a total of five ladder tapes.
Try before you buy…
We're happy to provide totally free samples of all of the materials that we use within our blinds, from the slat wood in your chosen colour and finish to the ladder tapes too, if you wish. Ask for as many as you'd like to review, and we'll get them off to you promptly. We'll even cover the shipping.