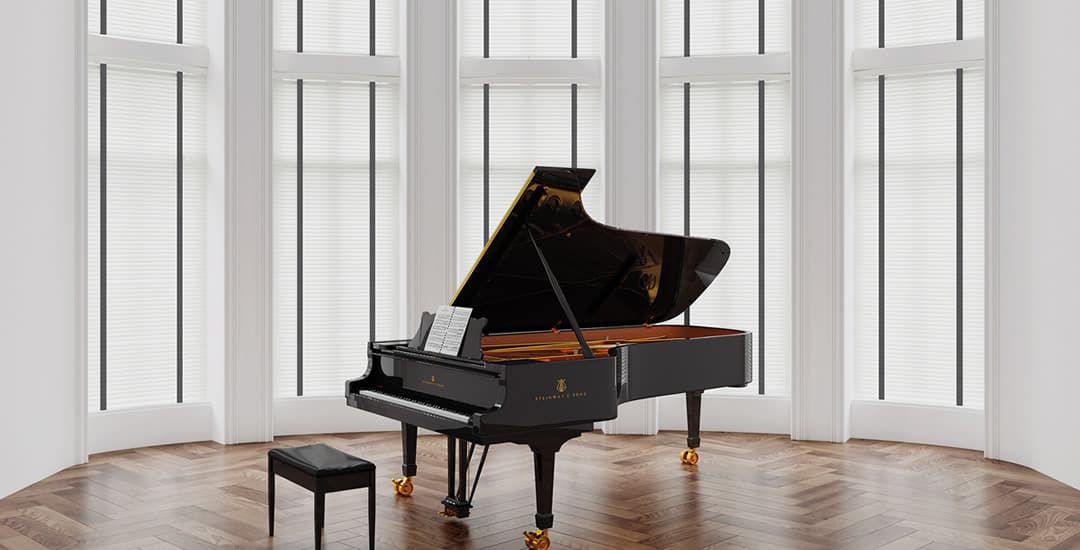 Investing in wooden blinds is a sound choice if you're looking for blinds that are highly adjustable, excellent quality, great to look at, and sustainably produced. They're also a step up in price from most other blinds in reflection of the cost of growing and transporting the wood in an environmentally sound manner; which means that when you've made your pick, you'll want to ensure you're happy with them for many years to come.
There are a few choices you'll face when buying wooden blinds, from the colour and finish you'd like to the width of the slats; and whether you should buy wooden blinds with or without tapes.
Should I buy wooden blinds with or without tapes? If you don't really have a strong preference, or aren't even sure what wooden blind ladder tapes are to know which you might prefer, this blog post will outline the factors to consider.
What are wooden blind tapes or ladder tapes on blinds?
Wooden blind tapes or ladder tapes are strips of fabric that run vertically from top to bottom through the slats of the blind, supporting them, keeping them uniform, and holding them in place.
Ours are 38mm wide on a blind with 50mm slats, 25mm wide on a blind with 35mm slats and 19mm wide on a blind with 25mm slats, and they're a visible part of the blind's design. How many tapes a wooden blind has or needs depends on its width; the larger the blind, the more tapes it will require.
The alternative to wooden blind ladder tapes are smaller, finer strings called lift cords, and these are barely visible in the blind's design at all. Lift cords are considered purely a functional part of the blind rather than a design element too.
Wooden blind ladder tapes are designed to be seen, and can really stand out if chosen in a contrasting colour to the blind itself; or blend in exactly if you match or coordinate them to the slats.
How taped blinds style up compared to wooden blinds without tapes
Wooden blinds without tapes result in the wood of the blind itself being the sole star of the show; they create a more natural, seamless appearance that really highlights the texture or colour of the wood.
Wooden blinds with tapes make the tapes themselves a design element, which can coordinate with or contrast with the wood. They also offer depth and interest in terms of the interplay of textures they create next to the wood itself, which has gained a lot of interest in recent years as texture and the visual contrasts between textures as well as colours has become such a hot trend in interior design.
Proponents of the tape blind tend to feel that they take the edge off the hardness of the wood to create a slightly softer, warmer, and more contemporary visual effect.
If you are thinking of heading down the taped blinds route, choosing the colour of your blind tapes is a big factor. You can either match the blind itself or go with something very different, which means that taped blinds can be a bold statement if, say, you paired black or a bright colour with white blinds.
They can also be used to continue a colour theme from the wider room, without committing to crafting the whole blind in it; the latter of which may well be a bit overpowering if your accent colours are bold or very bright.
Which are more popular, wooden blinds with tapes or without?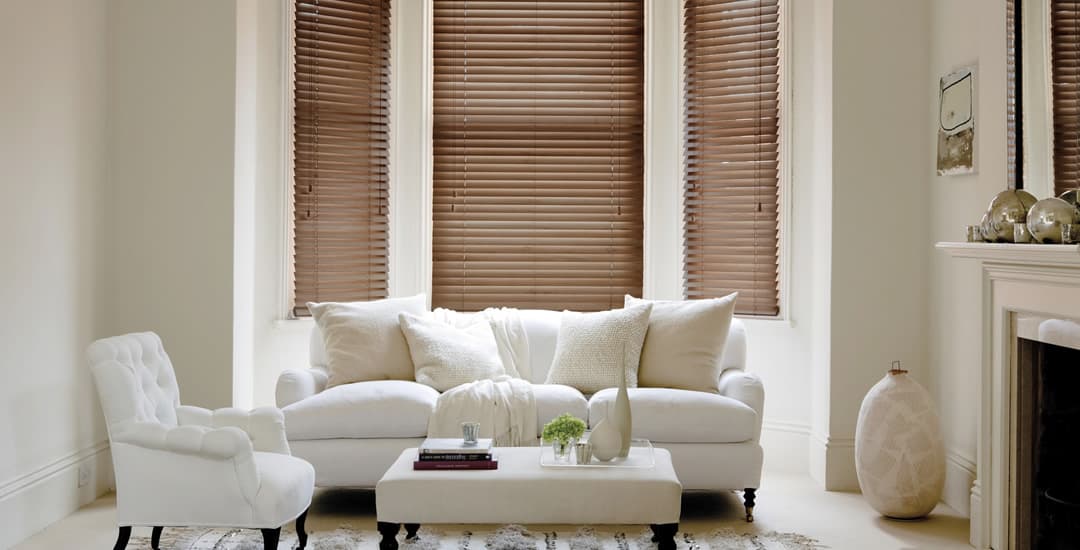 We've been in the UK blinds business since the 1980s and so we have a reasonable amount of data to work with in terms of charting the popularity of different types of blinds and how tastes and trends evolve and change over time.
Overall, wooden blinds without tapes have traditionally been the more common choice among our buyers.
While we do certainly still sell more wooden blinds without tapes than with them, taped blinds have also been increasing in popularity exponentially for the last few years, potentially in response to the recent-ish aforementioned interiors trend for textures and texture interplay.
Which are better, wooden blinds with tapes or without?
Ultimately both taped blinds and wooden blinds without tapes are designed to work in the same way and neither should perform better or outlive the other based on the presence or absence of tapes.
That said, there are a few subtle differences between taped and non-taped blinds that can best be summed up in terms of pros and cons to help you out if you're on the fence or want to ensure you have all of the available information in order to make your decision.
What are the benefits of taped wooden blinds?
Taped wooden blinds are seamless and there are no tiny gaps in each slat where the cord of a lift cord runs through. It would be almost impossible for anyone to see through fully closed wooden blinds that have lift cords not tapes, but if that was their intention, they could potentially get a view into your room from up close via the tiny holes in the slats that the lift cords run through.
If this was a real issue you were facing, however, I suggest that talking to the police rather than a window blinds retailer for the solution to your problem might be in order…
Ladder tapes provide a little more support to wooden blinds than lift cords, which is generally more relevant to faux wood blinds than real wooden blinds, the former being not quite as stiff. This tends to mean that like for like based on the width of a faux-wood blind compared to a real one, real wood blinds will use less ladder tapes.
Ladder tapes can be styled as a design element to add a splash of colour or create a textured interplay within the window.
Are there any downsides of taped wooden blinds?
When it comes to cleaning wooden blinds, you need to spend a little more time and attention on ladder tapes than you would on lift cords. As they're made of fabric, this means they're more apt to gather dust or grime that can become woven into the fabric itself, and also, are more likely to stain or pick up marks, and discolour or fade in the sun over the longer term.
Wooden blind ladder tapes aren't water resistant, which means that if you're choosing faux wood blinds for a bathroom or kitchen where humidity, moisture, or outright contact with water is going to be an issue, they're going to be the weak link in what otherwise would be a perfectly suitable blind.
The visual impact of tapes can create the illusion of the blind being narrower than it really is, as they appear as vertical stripes, which tends to be "slimming" in theory (on blinds and people, although I'm not convinced on this latter in my case).
This isn't necessarily a bad thing or even really a "thing" at all, but it can make the balance or symmetry of a smaller window look a little off, or make a window that is already narrow look a bit like Slender Man.
When a blind with ladder tapes is fully opened and the slats are concertina'd together, the tapes form a bunched or pleated appearance. Again, not necessarily a mark against taped blinds, more a case of personal choice in terms of whether you like the appearance this creates or not.
How many ladder tapes does a wooden blind need?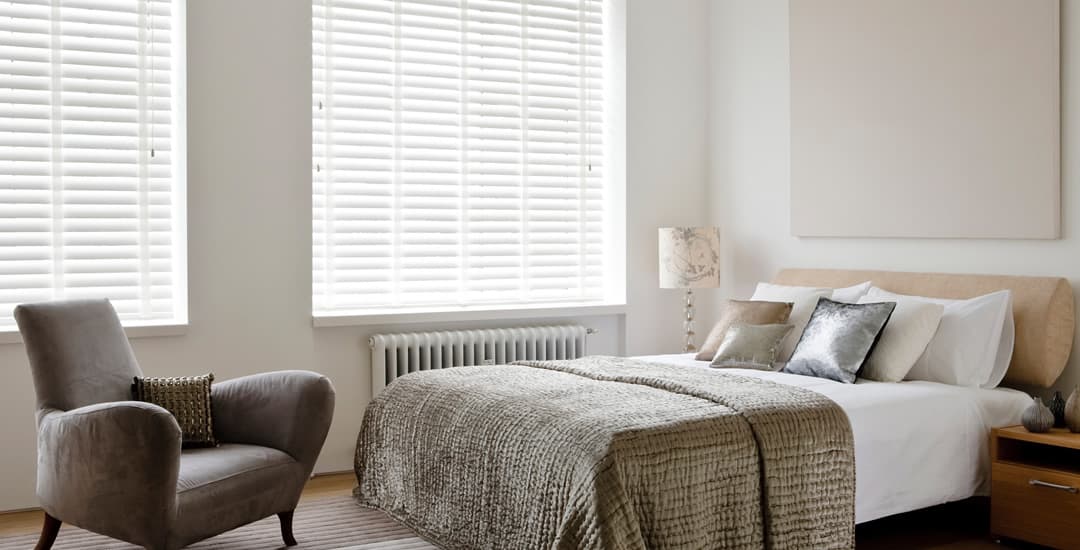 Finally, before you make a definitive choice on whether you want ladder tapes on your blind or not, bear in mind how many ladder tapes this might be; as otherwise, the visual you have in your head and the reality might have some distance between them.
How many ladder tapes a blind needs depends on the width of the blind (fatter blind, more tapes required to support it) and whether or not the blind is real wood or faux wood. Faux wood blinds will potentially have more ladder tapes like for like, as their slats are less stiff and need a bit more support.
The tables below should give you a rough idea of how many ladder tapes you'd be looking at for different types and sizes of blinds.
Real wood blinds
25mm & 35mm Slats:
| | |
| --- | --- |
| Blind width | No. of Ladder tapes |
| 400mm – 750mm | 2 |
| 751mm – 1350mm | 3 |
| 1351mm – 1500mm | 4 |
| 1501mm – 2400mm | 5 |

50mm Slats:
| | |
| --- | --- |
| Blind width | No. of Ladder tapes |
| 290mm – 900mm | 2 |
| 901mm – 1350mm | 3 |
| 1351mm – 1650mm | 4 |
| 1651mm – 2400mm | 5 |
Faux wood blinds
35mm & 50mm Slats:
| | |
| --- | --- |
| Blind width | No. of Ladder tapes |
| 350mm – 600mm | 2 |
| 601mm – 900mm | 3 |
| 901mm – 1300mm | 4 |
| 1301mm – 1500mm | 5 |
| 1501mm – 1800mm | 6 |
| 1801mm – 2100mm | 7 |
| 2101mm – 2400mm | 8 |
| 2401mm – 2600mm | 9 |
And finally…
Make sure you're sure before you order a blind with (or without, for that matter) ladder tapes; ladder tapes aren't just a design element, they're integral to the blind's operation. This means that you can't just cut them off if you don't like them; nor can you remove them and retro-fit lift cords in their place.
The last thing we want to do to anyone who might be considering buying a blind from us is selling them a lemon; even if that occurs because our buyer didn't really understand what they were getting rather than through any fault on our side.
For this reason, we're more than happy to send you samples of all of the materials our blinds are made from – fabrics, woods, and ladder tapes alike – completely free of charge, including shipping.
Feel free to request ladder tape samples alongside of wood or faux wood blind samples before you order, to make sure that when you do, you're positively, definitely, absolutely 100% going to be happy in your choice.