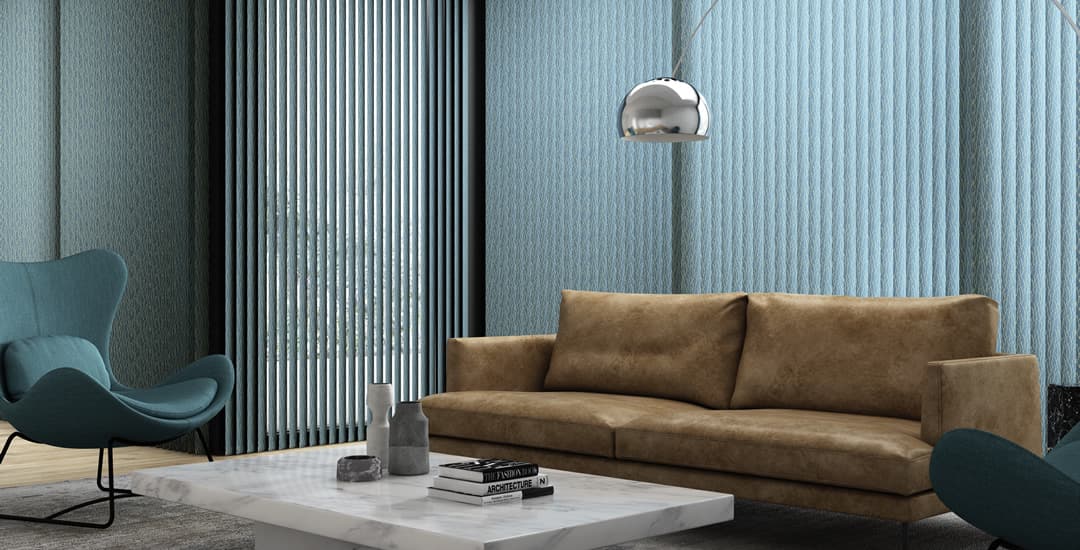 Vertical blinds are a practical and stylish choice, as well as one of the most versatile (and cost effective) options for virtually all potential applications. Even when you've got as far as deciding that vertical blinds as a whole are right for what you want, there are a number of other factors to consider too before you order, as some options are more appropriate for certain applications than others.
This article will help you to work out what to consider when choosing vertical blinds, and how to make the right choice.
How do I choose vertical blinds?
First of all, consider the room you want to use them in and factor in the specific challenges your blind will need to meet there.
For instance, this might mean blacking out the light entirely for a bedroom, filtering without blocking light for a home office, being waterproof and heat-resistant for a kitchen, and able to get splashed and handle humidity in a bathroom, or any one of a number of other things specific to your own room and how you use it.
Adding a little more insulation to the window for winter and helping to keep excess heat out in summer might even be a consideration for some rooms too, so make a list of all of the must-haves in terms of practicalities, then you can narrow things down to a vertical blind type, before making your more personalised choices in terms of colour, appearance, and finish.
Why do people use vertical blinds?
There isn't really an application that vertical blinds aren't well suited to as long as you pick the right type (for instance, waterproof ones for a window above a bath!) but there are a number of specific applications or reasons that tend to make verticals a particularly good choice or even the only choice for some purposes.
Overall I think the most common uses of vertical blinds and why people pick them over other types tend to be:
For use on tall, wide, or otherwise potentially "difficult" windows, where other options might not be large enough or might be too heavy to reasonably operate.
Vertical blinds can even be made for shaped, sloped, or curved windows, which would otherwise be near-impossible to cover!
For rooms with high levels of humidity and potentially, where direct contact with water might be an issue (like kitchens or bathrooms).
To filter light without blocking it entirely, and to enable a high level of control over light and privacy.
To insulate a window and also to block excess heat in the summer.
You can even use a vertical blind as a room divider, such as to separate a dining area off from a living room!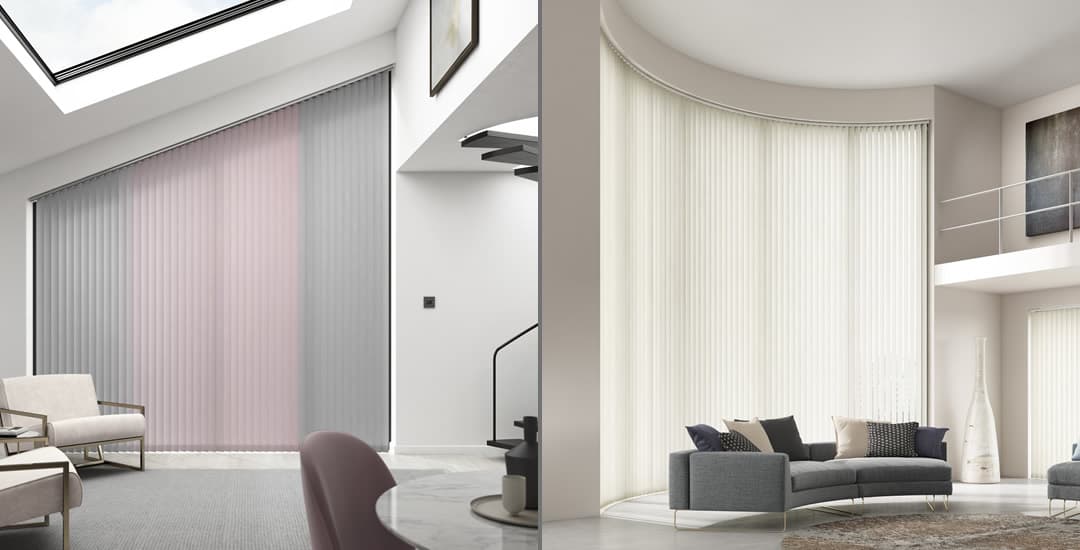 What to consider when choosing vertical blinds
So, what to consider when choosing vertical blinds? Go back to your list of the challenges you need the blind to meet, such as whether your window is very large or an odd shape, if you need the blind to be waterproof, and really, what your window itself and room is like in general.
This latter can dictate whether or not a vertical blind will look aesthetically pleasing (vertical blinds can look a bit OTT in very small windows, for instance) as well as what sort of design choices you make, both in terms of the colour and finish of the louvres and the appearance and style of the headrail too.
These types of things will in turn dictate or at least, provide a guide to what is the best material for vertical blinds for various things, and what to look for in terms of quality and even brand for the moving parts of the blind.
Vertical blinds can be made for bay or bow windows, with the caveat that you will need as many blinds as you have window segments. This does mean that there may be small gaps in the fabric louvres where the blinds bunch together; albeit this is really only a problem if you have thin mullions and so, potentially, light gaps. Choosing a curved headrail to negate gaps entirely can resolve this issue, albeit these can be rather more costly and a bit finnicky to measure for too.
In terms of colours and styles, these things are largely down to your own personal choice, and there is something for everyone in this respect when it comes to vertical blinds. Fabric colours range from plain neutrals like white, beige, and grey, to more or less any shade you can imagine (and some you can't!) as well as finishes ranging from plain to textured suede to exotic grass effect and much more.
If you do want some basic style pointers, for a large window you might want to err on the side of lighter and more neutral colours, as a huge swathe of a dark or bright colour might otherwise overpower the room; that said, it can also make for a bold feature, if that's what you're looking for specifically.
A warm, bright, or deep colour can also really warm up the tone of a room, and add depth and intrigue if the rest of the room is fairly neutral itself.
Headrail styles and colours also come in a wide range of options too, all of which can be chosen to fit your own personal taste.
What is the best material for vertical blinds?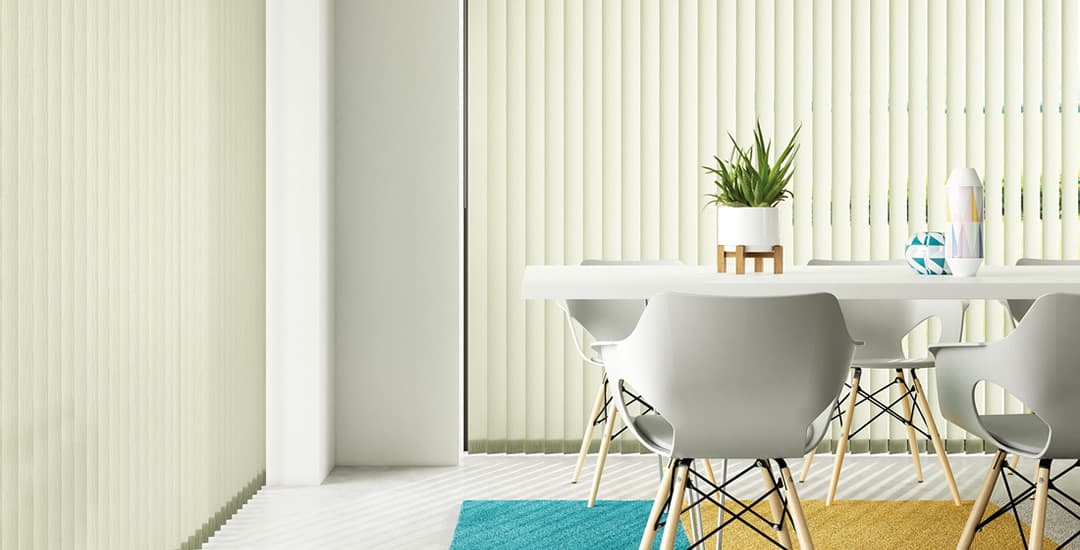 What is the best material for vertical blinds? This depends to a high degree on what room you're putting them in, as well as how much control over the light you want too.
For instance, for a living room or dining room (or even a gaming room or home office) dim-out jacquard weave fabrics are our most popular choice, as they add a bit of detailing, lots of control over light and privacy, and the opportunity to set a mood or take the edge off screen glare without actually darkening the room entirely.
For a bathroom, kitchen, or otherwise humid room or one with water in play, you'll almost certainly want to choose PVC or vinyl fabrics, as these are fully waterproof and fit for purpose while others are apt to end up turning limp and getting watermarked or stained in short order!
These fabrics are also blackout by design, offering an additional benefit in terms of privacy control and insulation as well, as they're slightly thicker than alternative options too.
For bedrooms, light control, light blocking, and privacy when wandering around in your smalls are probably the top priorities. A blackout fabric then is apt to be the best choice again, albeit keep in mind that for a blind fitted within the window recess, you'll still get a degree of light leakage around the edges unless you double up with a pair of curtains outside of the recess too.
What is the best brand of vertical blinds?
Just to be clear on what I mean by "brand" in this context, I don't mean an end-product blinds manufacturer/retailer like us here at English Blinds, but specifically, the brands that manufacture the vertical blind headrail systems that blind manufacturers like us use to construct the moving parts we need.
With that clarified then, what are the best quality vertical blinds in terms of mechanism or operating system? Well, we've been around since the 1980s and we've tried out (or considered and ruled out) more or less every option that's come to the UK market since that time.
Our informed opinion then is that two of the best quality vertical blind brands in the UK are the Vogue system by Louvolite, and the Cruze system by Decora respectively.
As it so happens, these are the exact two systems we choose for the manufacture of our own vertical blinds, because we know from long experience that they're smooth in operation, reliable over the long term, easy to care for, and stylish and contemporary looking too, which is of course also very important for most buyers!
Both Louvolite and Decora blinds are manufactured to an extremely high specification, and put simply, we use them because we know that once they go out the door they're not going to be boomeranging back at some point because they've started to fail within a few years of regular use!
How do I choose vertical blinds for my oddly specific issue?
If you have a question or scenario I haven't covered, or perhaps want some more info on something I've touched on like vertical blinds for bay windows or what sort of fabric to pick for a combo-challenge room like a dining room that opens onto a kitchen, you can always send me an email and I will try to offer some more pointers to help.