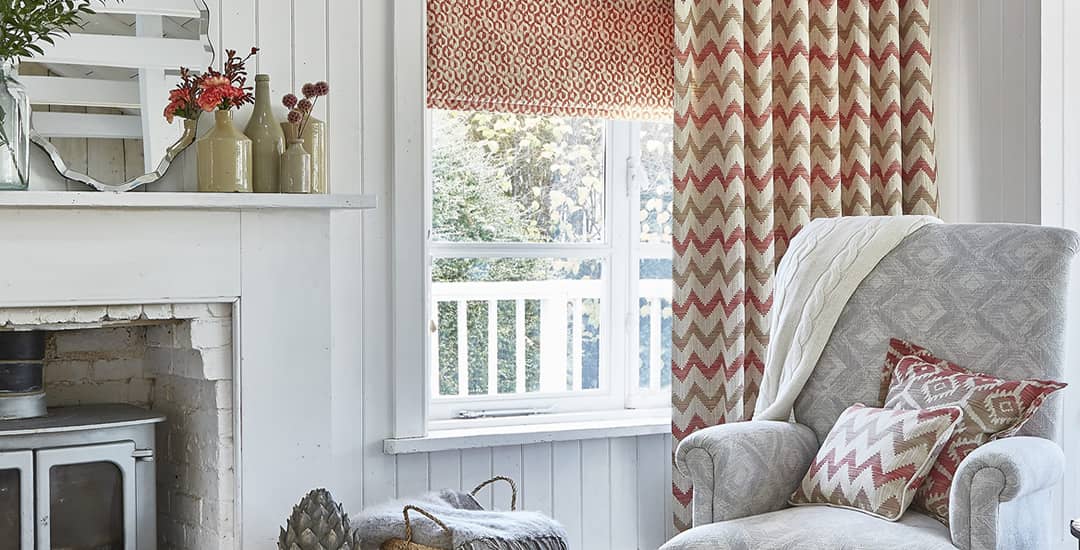 Are Roman blinds easy to fit? Yes, even if you've never fitted any type of blind before. Roman blinds are actually one of the easier types of blinds to fit with basic DIY tools, simply by following the supplied instructions.
This information runs contrary to many people's expectations, because they think the high quality and perceived prestige of Roman blinds means that they're also going to be somewhat complicated or require special skills to deal with… Or alternatively, that the whole endeavour is so highly-loaded that this amplifies the theoretical (and very low, in reality) risk of getting things wrong.
How do roman blinds fit? Basically, they clip into brackets that you attach to the window frame, wall or window recess. Nothing fancy to see here, other than the blind's fabric.
All you need to fit a Roman blind is a tape measure, drill, pencil, screwdriver and (unless you're somewhat bold or eat right angles for breakfast) a spirit level, the latter of which can actually be downloaded as an app for your phone rather than sourced as a physical item!
If you're just looking for the directions on how to fit Roman blinds rather than reassurance and logical reasoning to encourage you that you'll be able to do so per se, check out our Roman blinds fitting guide.
Is it hard to install Roman blinds?
No, and here's why. First up, you don't need either special skills or special tools. Tools-wise, you just need a drill and drill bits of the relevant type for the material you're working on (ie., wood or masonry and so on) a tape measure, pencil, screwdriver, and spirit level (even a free downloadable phone app one).
Skills-wise, you just need to be able to follow instructions and have a bit of common sense. I have nothing to say on this latter point, but if your significant other is making a Concerned Face in this respect, they should maybe be the one to take one for the team here or at least, supervise you if you're the designated drill driver.
Secondly, you can fit Roman blinds in the position that suits you best, being either on the wall/window frame so that the blind hangs over the window recess, or from the "roof" of the window recess so the blind hangs down inside of the recess. Your choice there depends on a combination of the look you want to achieve and to an extent, which approach you'll find easier if this is a concern!
How do Roman blinds fit to a window?
Roman blinds are made to fit to either the wall or to the window recess itself as mentioned above, and good quality made-to-measure Roman blinds are supplied with what are known as "universal brackets," which allow you to do either.
This means that you can put the brackets up by means of either "face fixing" (this means that you fit them to the wall or window frame) or "top fixed," which means that you fit them to the top of the lintel or window recess.
Are Roman blinds easy to fit inside the window recess?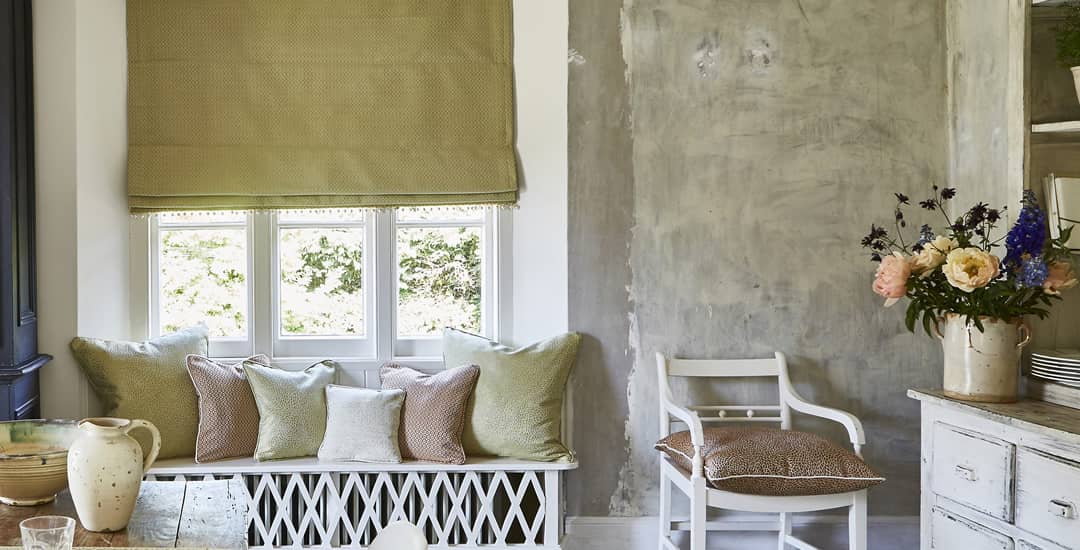 If you want to fit your Roman blinds inside of the window recess, there will usually be two ways in which you can go about this. The first is to fix the blind to the window frame (with the screws for the bracket going in horizontally) and the second is to fit the blind up on the top surface of the window recess or lintel, so that the screws for the bracket go in vertically.
Is it hard to install Roman blinds inside the window recess? No it's not hard and certainly not confusing in terms of knowing what to do when you've picked your position and are running through the steps involved.
However, it can be a bit fiddlier than fitting a roman blind outside of the window recess, as you may have less elbow room and have to contort a bit more, depending on the recess's size and so on; albeit for many windows, this won't be an issue at all.
Are Roman blinds easy to fit outside of the window recess?
Is it hard to install Roman blinds outside of the window recess instead? No, and in some ways it may be easier as you won't be short of elbow room nor have to twist about too much to see and reach the things you need to.
That said, fitting a Roman blind inside of the window recess is generally preferred, as this looks rather neater and because ideally, if you want to fit a Roman blind outside of the window recess you'd consider fitting a batten for them first.
This will help to distribute the weight of the blind more evenly, and negate the still admittedly-small chance of everyday usage eventually loosening the screws holding the blind's brackets directly into the wall, and potentially hoiking the whole array down one day if you pull on the controls with a little too much vigour.
This means that if you do decide to go down the battening route this is one more thing to factor in on your list of the things you need to do, but it still doesn't come with any additional technical challenges nor make the job "hard" in terms of either the level of labour nor the brainwork required.
How to install Roman blinds: the basics
Is it hard to install Roman blinds if you've never done it before and aren't really into DIY? Honestly really not.
Every Roman blind will come with its own step-by-step instructions, and these may vary moderately from blind to blind and you should obviously follow the one for the blind you bought; but below is a basic sample list of the steps to follow to fit a Roman blind.
Use a tape measure to work out where to place the brackets supplied so that they're evenly spaced, then use a pencil and to mark the wall where each bracket will be fixed via the screw holes in them. We recommend going at this with a spirit level to speed things up and to avoid any issues!
Drill the holes you marked.
Insert the supplied rawl plugs if you're drilling into brick or masonry.
Mount the brackets into the drilled holes using the supplied screws.
When your brackets are up and secured, you literally just lift the blind into position; push the headrail of the blind up and into the brackets until you hear an audible "click" to confirm that it has been secured into place.
So no, it isn't hard to install Roman blinds, and doesn't take very long either; one thing to note is that the wider the blind, the greater the number of brackets that will be supplied to support it, so as you might expect, the bigger the blind the more drilling and screwing you'll need to do.
Larger blinds can also be a little heavier and more unwieldy to handle, so you may want someone to give you a lift with actually lifting/clipping the blind's headrail into the brackets when they're all up, particularly if it's a ways overhead.
Is it hard to install Roman blinds so that they're child-safe?
Oh, one last thing; is it hard to install Roman blinds so that they're child-safe? No, child safety is built into both the design of the blind and how you fit it.
All blinds sold in the UK will come with their own child safety devices, in the form of either a cord tidy (which you fix to the wall and use to hold cords or chains safely out of the reach of small grasping hands) or in some cases, a breakaway feature that allows the control chain to detach itself from the headrail when a certain amount of pressure is applied. If this latter does occur, it only takes seconds to clip it back in, so don't worry on that count!
It's really important to ensure that you do fit the cord tidy if one is supplied, in order to make your Roman blind child safe, but this again just needs you to mark up the wall with your pencil, drill a couple of holes, and screw the cord tidy into it.
Any questions?
If you've got any questions about fitting a Roman blind, just ask; even if you think it's a daft question and we'll all laugh at you. Trust me we have our own circus to manage here, yours won't even come close to the sort of shenanigans we see and hear in the average week; lives were nearly lost in August over whether you put the milk or the tea in the mug first…
It's far better to exercise caution, check, then proceed with confidence and get it right than it is to assume you're on the right track or try to MacGyver things because you had a beer with lunch and feel like there are a few steps that could stand to be missed out maybe!