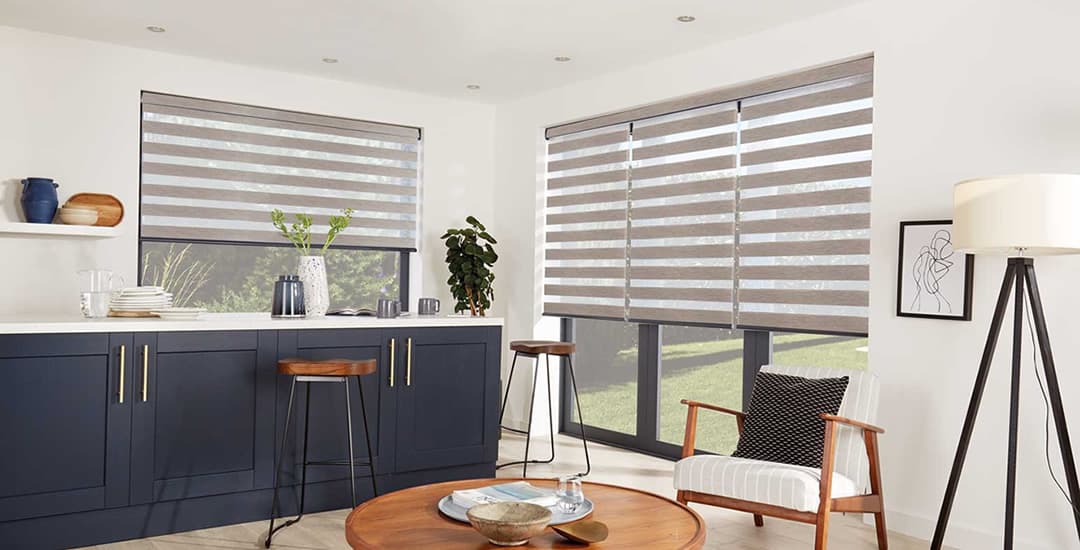 Which blinds let in most light? Open ones… But if you're talking in terms of blind types rather than operator-based factors, well, this depends on what they're made of.
Some of the different types of blinds you can buy can be bought in a choice of fabrics, which can be quite variable in how much light they allow through them when they're closed.
But none of the window blind types in and of themselves cannot avoid letting in light due to their style and construction, unless you pick a material that permits this. All types of blinds can either be made in blackout materials, or have natural blackout capabilities due to what they're made of.
Providing a meaningfully informative answer to the question of which blinds let in most light requires knowing which side of the fence you're asking the question from.
By this I mean, do you want to know which blinds let in most light so that you can avoid them, or are you looking for blinds that will enable you to maximise the light reaching the inside of your room by virtue of the blind having a small footprint over the window's glass?
In this blog post I'll rank which blinds let in most light based on the materials they're made from, and then I'll also share some information on which blinds let in most light by means of taking up minimal space in the window that would otherwise occlude the light.
Which blinds let in most light based on the materials they're made of?
Ok, assuming that it's daytime and your blinds are fully closed, here's the ranking of which blinds let in most light through them, in order:
Voile roller blinds.
These are pretty much sheer, and will make the light coming in take on a soft glow rather than blocking it.
Day and night blinds (made from non-blackout fabrics).
These have alternating sheer stripes that filter light rather than blocking it, to retain your privacy while still allowing you to enjoy the view.
Dimout roller blinds.
"Dimout" is basically the term used for all standard roller blinds that aren't made of a deliberate blackout fabric. These will tend to make the room look like perpetual twilight when it's bright out, but won't block the light entirely.
Dimout vertical blinds.
As is the case with dimout rollers, this is the term used for just regular vertical blinds made from a standard, non-blackout fabric. They have around the same effect as roller blinds in terms of how much light they let in; but a shade less as their fabric is a little thicker.
Roman blinds with a standard lining.
This again just means Roman blinds made in a regular fabric, without a blackout lining. These are actually pretty effective at keeping the light out and will definitely make you struggle to see much in a room that has them as their fabric is thick, but they don't quite manage a full blackout.
Aluminium Venetian blinds, and wood or faux-wood blinds with lift cords.
All three of these types of blinds are slatted, and have what we call lift cords running through the slats to raise and lower them. When said blinds are fully lowered and fully closed, they will achieve almost a total blackout effect; but when your eyes have adjusted and if it is bright out, you might see tiny pinpricks of light where the lift cords pass through the slats.
All of the above types of blinds will let light in to some extent; ranging on a scale from "lots of light" to "you'd struggle to see any." Wood and faux-wood blinds with ladder tapes (rather than lift cords) and rollers, day and night blinds, verticals, and Roman blinds made from blackout fabrics all keep the light out entirely, other than any potential leakage around the sides of the blind depending on how it's fitted.
Which blinds let in most light by taking up very little space in the window?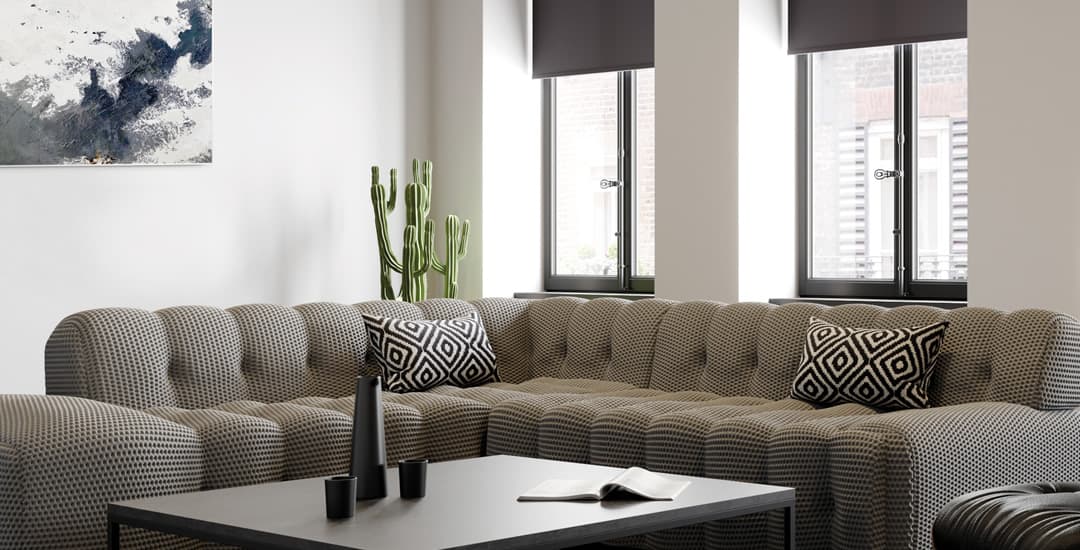 If your reason for asking which blinds let in most light is less about the fabric and more about wanting to avoid blocking natural light by choosing a blind that takes up a lot of window space, the answers you are seeking are rather different!
First of all, how you hang your blind dictates this in large part, and hanging your blind outside of or over the window recess means you can, if you choose, measure up leaving large enough margins to ensure that the open blind doesn't occlude the window itself at all.
If this isn't an option or you prefer the aesthetics of hanging your blind inside of the window recess, knowing which blinds let in most light by means of having a small footprint over the glass when they're open is very pertinent.
In this situation, roller blinds are probably the best blinds for taking up little or no space over the glass when they're fully open, as their fabric rolls up around the roll.
Day and night blinds come next, being almost as subtle.
Aluminium Venetian blinds stack at the top of the window when open and so, cover some of the glass, but they have a smaller footprint like-for-like when open than faux-wood, real wood, vertical, or Roman blinds.
Vertical blinds come next; these stack to the sides of the window rather than above it. As each louvre is narrow and thin, they won't take up a huge amount of space; but the wider the window, the wider the stack and so, coverage of the glass if hung inside of the recess.
Finally, faux-wood and real wood blinds and also Roman blinds concertina together at the top when open, and do take up space over the glass if they're hung inside of the recess as a result.
The longer the blind, the larger this footprint will be, and the width of the slats has an impact too; narrower slats means the need for more of them, making a taller stack.
Do white blinds let more light in?
I'm just going to tack this question on at the end as it comes up reasonably regularly; people often tend to assume that the lighter the colour of a fabric blind, the more light it will allow through it.
So, do white blinds let more light in? Not by nature; again, this depends on the type and thickness of the fabric they're made of. The colour of the blind might change the tone of the light that filters through it if it is light-permeable, but it does not itself make a blind more likely to let light through.
In fact, blackout linings for blinds are commonly made of white fabric… Which kind of answers the whole "do white blinds let in more light" question in and of itself!