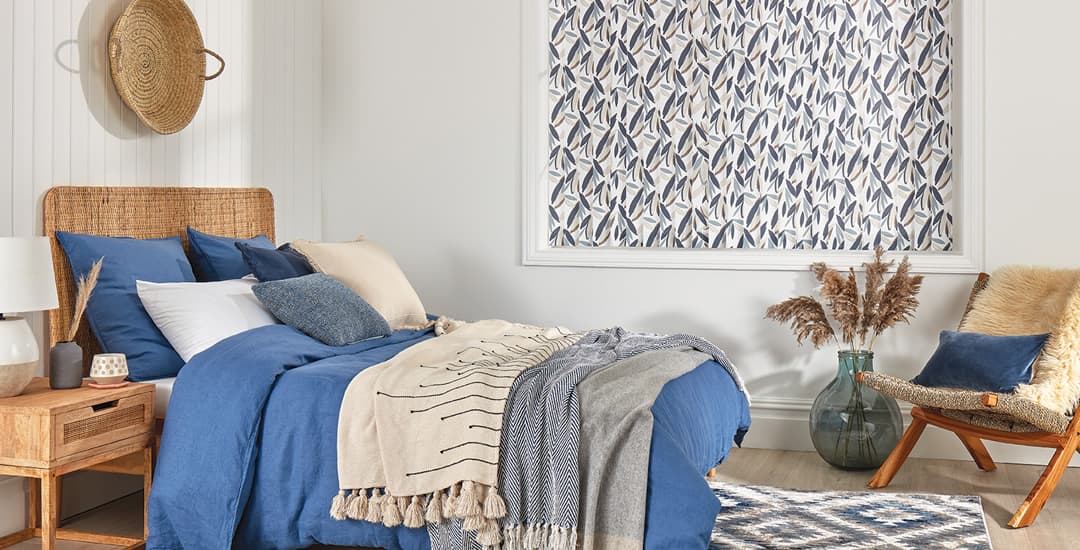 If you're looking to the internet for guidance on what colour your blinds should be, you've probably either come up against something of a mental block that's keeping you from making a confident choice, or trying to find out if there are any rules or etiquette you might be missing in terms of how to choose the right colour when buying blinds.
On this latter point – is there a right or wrong colour for blinds – the answer is no; there is no style rule that dictates what colour or colours your blinds should be, or those to avoid.
The ultimate answer to "what colour should my blinds be" depends on the rest of the room and your overall design theme or ethos too, and using these points to guide you in your choice is what I'll be looking at in this blog post.
How to choose the right colour when buying blinds
So, how to choose the right colour when buying blinds? Some colours or designs very obviously won't fit into a certain style or theme; a chintzy country cottage would look a bit odd if adorned with shiny silver blinds looking like something out of a 2130 space opera.
Context is everything, then; the colour of your blinds should be sympathetic to the rest of the room or more to the point, work with it. This does not mean that the colour of the blinds has to blend in or match the colours of the rest of the room; you can also pick blinds in accent colours or contrasting colours to switch things up without making it seem as if the blinds are the tone-deaf member of the wider room's choir.
However, just picking blinds in your favourite colour regardless of what the rest of the room has to say on the matter might leave you with a visual impression best described as "a dog's breakfast."
How do you choose a blind's colour?
A far more important consideration than colour itself is the shade or tone you pick. For instance, you might have a clear idea in your head that you want a dark blue blind; but "dark blue" easily encompasses any one of a hundred (or more) specific colours.
The shade or tone of a colour, on the other hand, is totally binary; it is cool or warm respectively. Whatever the tone of your room overall, your blinds should match it, or your room should go on to match your blinds if you're reverse-engineering things to design the theme of the room around the blinds.
Not all colours work well with all other colours obviously, but a room that has a mishmash of cool and warm tones colours (even when the colours come from the same colour family) or is mainly cool/warm aside from one notable element, tends to look a bit out of kilter.
Should my blinds match my floor?
I really don't know where this question comes from, but I guess it is a thing as a few people each month do email and ask me exactly this. There is certainly no rule or obvious reason why your blinds should match your floors; and if you have carpets and particularly, patterned carpets, this might be more or less impossible to achieve and look a bit neurotic if it was.
If you have wooden floors, choosing blinds in a similar colour and tone to the wood effect of the floor (or for wood and faux-wood blinds, choosing blinds that are finished to emulate the wood you have on the floor) is definitely a viable approach.
However, you are by no means limited to only colours or finishes that achieve this; you can, if you wish, choose more or less any pastel, bold, bright, or neutral blinds according to your tastes, without having it look incongruous.
In terms of tiled floors such as you might get in kitchens and bathrooms, I personally think that this is one area where cohesion in the colour and potentially, finish of your blinds and the floor itself tends to look very smart and strong.
However, again this is not a rule, and if you prefer the look of something else (or if say, you have a dark floor and a large window that would require a large blind, which if itself dark, would make the whole room look like a black hole) then you're by no means limited to nor obliged to have everything matchy-matchy.
How to choose the right colour when buying blinds on the internet
Given that the colour and effect you see on a PC or phone screen can be vastly different to how it will look in real life, how do you choose the right colour when buying blinds on the internet?
Ask for samples. Always request fabric or material samples of the shortlisted blinds you're considering before you commit to a purchase. Until you see them within your room and potentially, suss out how the finish or texture acts on the colour and overall effect too, you can't be totally sure that you're making a sound choice.
All good window blind retailers will be more than happy to send you as many free fabric or material samples as you like; we even cover the postage costs here too, although this may not be true for other sellers.
Plus, if you're considering buying a patterned blind, you need to see the full extent of the pattern to get a good grasp on it; so always be a bit speculative if the samples you're sent are too small to really give you a clear impression of what's going on, or of the fabric's quality.