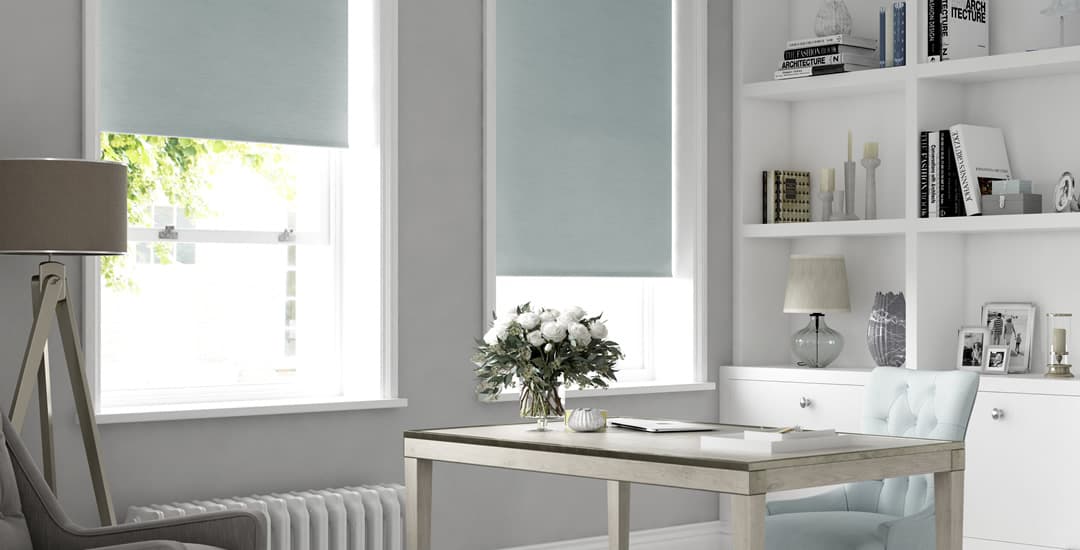 What colour blinds go with grey walls? The good thing about grey of all shades (I will leave you to fill in the obvious joke here) is that it's a neutral colour, and so there aren't really any colours that won't work with grey when it comes to blinds.
That might be all you need to know to get going in picking your new window dressings; but if you're actually finding that the problem is too much choice rather than not enough, this blog post will provide some pointers on choosing blinds for grey walls, and factors to bear in mind.
Matching blinds to grey walls: Tone
I don't think that there's any colour per se that won't go with grey; some options might not suit your room as a whole, but if you had to think of a colour that outright clashes with grey, you'd really be limited to those shades that are simply standalone offensive as they are.
Think the colour of tobacco packaging in the UK now that it's generic; which, fun fact, was picked in that exact shade of eye-offending khaki diarrhoea specifically because it is so nasty as to potentially act as a deterrent to smoking in and of itself.
However, one thing that holds true when determining what colour of anything goes with what colour of anything else, is that while you can complement or contrast according to your own taste, the tone of the two shades in question should match.
This means if your grey walls are cool toned, your blinds should be cool toned too, and if your grey walls are warm, you'll want warm toned blinds to match. Trying to fuse cool with warm in either direction will ring off key for everyone, even if not everyone can elucidate what it is about the effect they're seeing and don't like.
As long as you keep your grey walls and blinds harmonious in tone, the rest is down to you.
What colour blinds go with grey walls that are dark?
If you have dark grey walls; first of all, bold style choice! The question of what to pick for your blinds in this case is less to do with colour and more with shade; do dark grey walls need dark blinds or light blinds?
As ever, this depends what you want the end look to achieve. Lighter coloured blinds can add light to the room and break up the visual impact of the dark wall shade, and potentially make the space look larger.
Choosing blinds as dark as or darker than the walls can make a strong statement, which might be the whole point if you picked dark grey walls in the first place. However, it might also make the room feel smaller; this can make it seem more intimate or cosy, but if the room is already small, having dark walls and blinds can make it feel cramped, and for larger rooms, may make it seem daunting or imposing!
What colour blinds go with grey walls that are light coloured?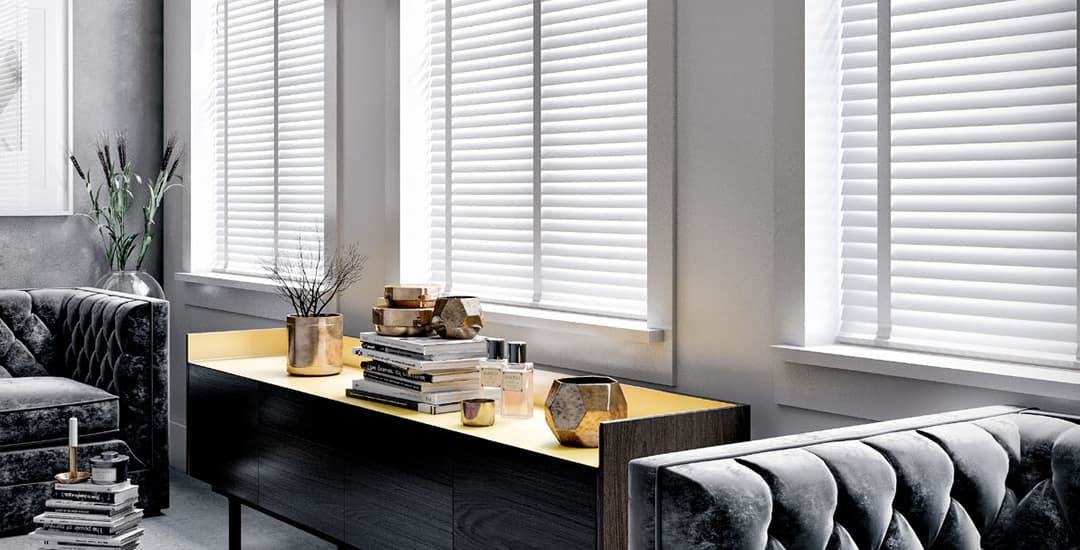 If you have light grey walls, you have probably the widest choice of colour and shade options of all to choose from. Picking similarly light-coloured blinds will create a light, airy, and spacious effect, while darker blinds will break up the wall, add a feature, and provide contrast.
Blind colour styles as diverse as pastels, neons, bolds, and all other neutrals too all go well with light grey walls, and again, other than colours that are themselves loud or otherwise unpleasant in their own right, there's not really anything that won't work with light grey, my caveat about matching tone (warm or cool respectively) notwithstanding.
Should grey walls have grey blinds?
Most people with grey walls tackle this question at some point; generally, if the grey of the blind and the wall are a match or very close to it, this can look a bit overly grey, potentially drab, and too monotone for most people's liking.
However, grey blinds that are either a few shades lighter or darker respectively than grey walls they're accompanied by tends to work for many aesthetics, and negates all of the above issues by adding interest, breaking up the wall, and creating a spectrum or colour theme rather than the effect of looking at a breezeblock wall!
If you have just one grey wall – like a feature wall – matching the blinds on a different wall to this lone wall is an option that most people find looks good, and can add to the cohesion and flow of the room's style as a whole.
Also, if you have grey walls with blinds of any type of shade, I'd love to see watcha got; show me in the comments!