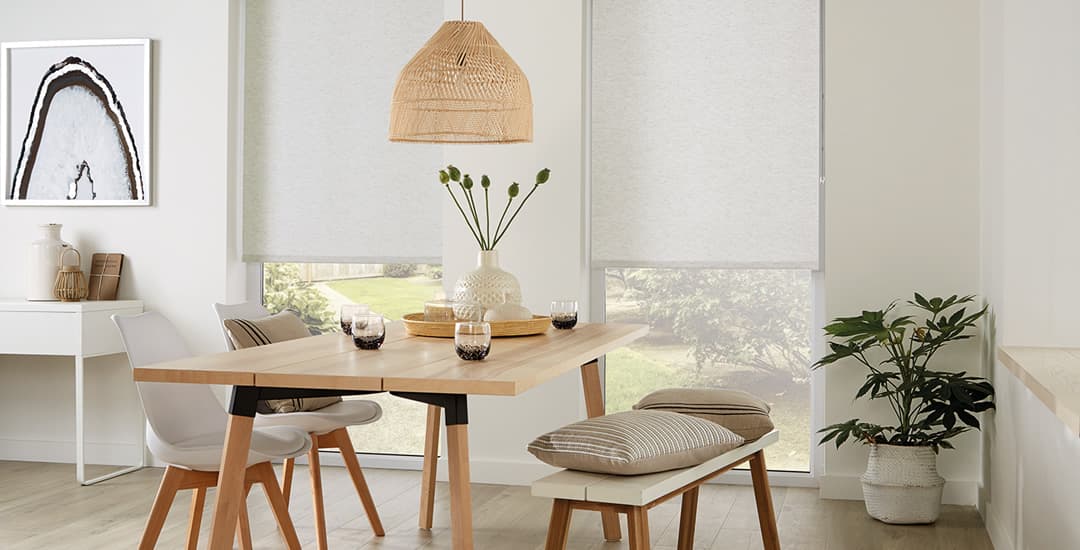 Do blinds make a room look bigger? Yes, if you choose the right type of blinds and hang them in a way designed to achieve the appearance of more space and less clutter. When it comes to what type of blinds make a room look bigger, some are definitely a better choice than others, and the right choices are not necessarily as intuitive as you might think either!
This blog post will compare blinds to curtains in terms of which is the best choice to make a room feel less poky, and provide tried and tested tips on how to use blinds to make a room look bigger as well as what to avoid.
Do curtains or blinds make a room look bigger?
Opening with the big question first then; do curtains or blinds make a room look bigger? Using blinds will almost always make a room look bigger than it would do with curtains, both because curtains protrude into the room more and have a fussier appearance than blinds, and they generally cover more of the walls around the window too.
Curtains are almost always hung over rather than inside of the window recess, while blinds can be hung in either configuration – allowing you to determine which approach gives the most flattering impression of the room's size.
Do blinds make a room look smaller in some instances too?
Yes, while blinds definitely make rooms look bigger than curtains do, certain types of blinds can make a room look smaller, or possibly more to the point, draw attention to the already-small dimensions of the room.
Really this tends to be blinds that swamp the wall and cover a large amount of it, those that are dark or bold coloured so that they overwhelm the space, and blinds that are overly fussy or busy.
Avoid blinds that have a large pattern on them, or that protrude out into the room by much in order to avoid having them swamp the room. The extent to which the blind protrudes is dictated by the depth of a blind's headrail, which in turn varies by blind type.
While there's really not a lot in it, every centimetre counts if you're trying to identify what type of blinds make a room look bigger, and avoid inadvertently compromising the end effect.
How to use blinds to make a room look bigger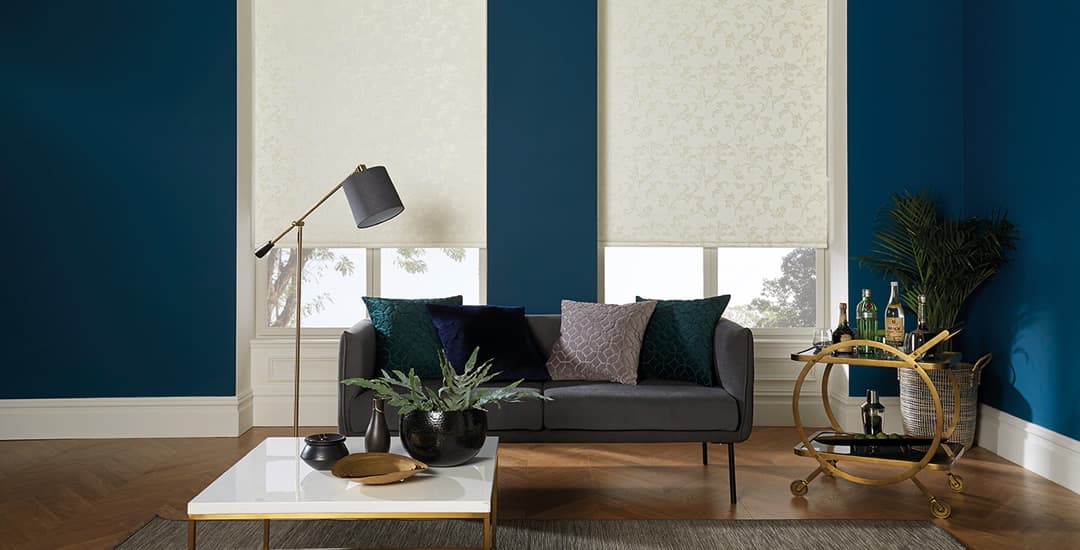 The first thing you need to know about how to use blinds to make a room look bigger is that lighter colours and simple, clean lines and designs tend to be the most effective at doing this.
Blinds that are very fancy or dark or that have intricate, detailed, large, or bold patterns will tend to have the opposite effect; for instance, Roman blinds tend to suit large spaces and help to make them look grand, but can swamp a small or even medium-sized room and soon make it look cramped or overwhelmed.
Slatted blinds (such as faux-wood, real wood, and Venetian blinds) can be something of a double-edged sword when it comes to what type of blinds make a room look bigger.
It might seem intuitive that a clean, white wood or faux-wood blind is about as minimalistic as you can get and so, will enhance the space; but if the room, wall, or window itself are small, they can look a bit comical and poorly designed in terms of their ergonomics, particularly those in wider slat sizes.
However, in some cases, blinds like these with vertical slats draw the eye along the horizontal and so can make the wall they're displayed on look longer, and if the slats are narrow, they won't appear too chunky for an average-sized window. For a very small window or wall though, slatted blinds tend to be a bit much.
Do blinds make a room look bigger if you hang them inside of the recess?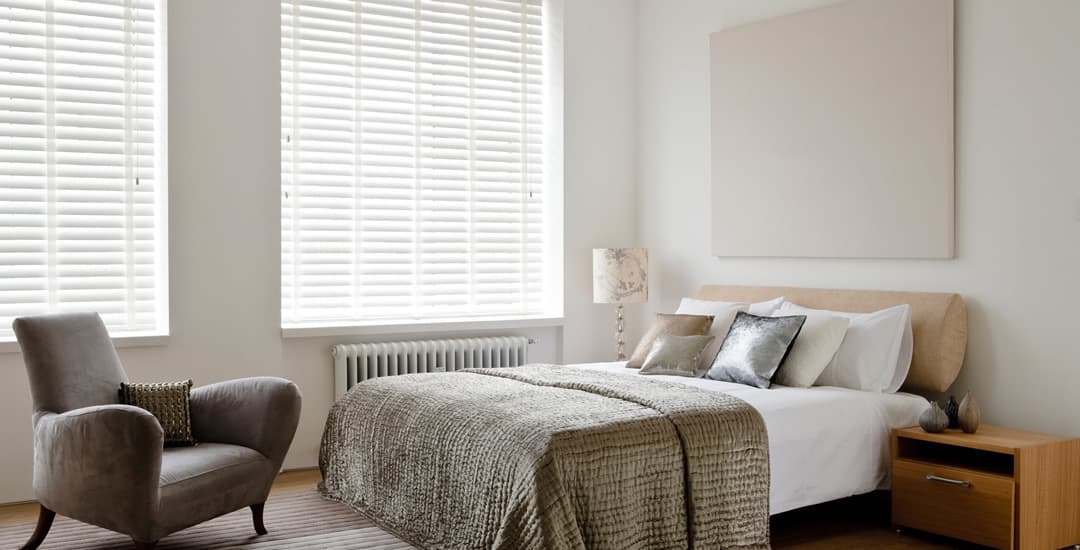 Generally speaking, hanging blinds inside of the window recess rather than over it will minimise the blind's footprint and ensure that it does not look as if it is swamping the wall.
That said, there are some potential exceptions to this, such as if you feel the blind will look more seamless and less disruptive hung over the recess, blending into the wall rather than breaking it up.
What type of blinds make a room look bigger?
In terms of the various blind types or styles, as mentioned above, Roman blinds pretty much self-exclude for small rooms if your goal is to make the room feel more spacious.
Vertical blinds tend to take up a lot of physical space (comparatively to other types of blinds, that is) and also visual real estate; but if you're working with a wide window in a low room, the fact that they're vertical can give the impression of greater height, and make the room feel less cramped or low-ceilinged.
Blinds with stripes (either in their pattern, such as is a popular option for roller blinds, or in their design in the case of day and night blinds, which are crafted from horizontal stripes) can be helpful in some cases too if you're trying to make a room or wall look taller or wider respectively.
You'll want subtle stripes in either light or neutral shades and/or colours that match or compliment the wall to achieve this effect.
If you want to pick a patterned blind for a smaller room, proceed with caution; a pattern can look rather "busy" and so, increase the perception that the room is small, cramped, or crowded. However, if you choose a small, delicate, or subtle pattern, this will generally work out really well.
Here's the overall takeaway you should keep in mind if you're suffering from information overload and aren't quite sure what to do: blinds make a room look bigger if they themselves are not overwhelming.
Think light, neutral colours, minimal, unfussy designs (such as the single sheet of fabric that makes up a roller blind rather than a busy Roman blind or large slatted blind) and small, subtle patterns if you want patterns, rather than bold or large repeating designs.
Try before you buy…
Finally, it can be hard to get a feel for whether a pattern or design you're looking at on your phone or PC screen will translate in the same way in real life, in terms of its size or impact.
If you've seen something you like and think it should work, don't take a gamble – use the link on the product page to add a free sample (you don't even need to pay postage) to your basket so that you can try it out first.
There's no limit to the number of samples you can request from us either (though we'd rather you use them to try to choose blinds instead of, say, to make a quilt), so knock yourself out!