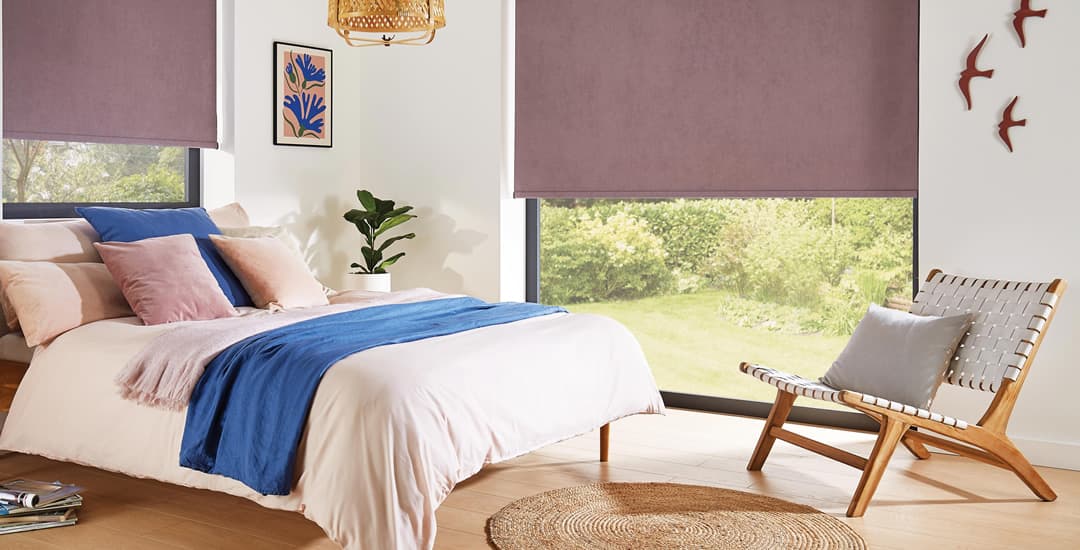 Which blinds are best for blackout? Those that are made of a material that is totally impermeable to the sun, as opposed to "dimout" blinds, which will darken a room but not prevent light from entering it entirely.
Oh, also, closed blinds… If you leave them open, you're entering chocolate teapot territory in terms of the blind's prowess at protecting your eyes from an early morning assault of cheery little UV rays.
However, even if you've got a window blind made of a material that could absolutely keep a vampire alive during the day if you wrapped them in it, this leet sun-repelling skill is rendered almost worthless if light leaks around the sides of the blind or through chinks/slats/louvres.
This is a reaaallly important point, but one that many blackout blinds buyers overlook to their detriment when it comes to making their final pre-ordering decisions about things like whether they want their blind to hang inside or outside of the window recess.
This blog post will tell you definitively which blinds are best for blackout overall, how to make blackout blinds more effective, and also, cover the performance implications for blackout blinds based on whether they're hung inside or outside of the window recess.
What are the best blackout blinds in terms of materials or fabrics?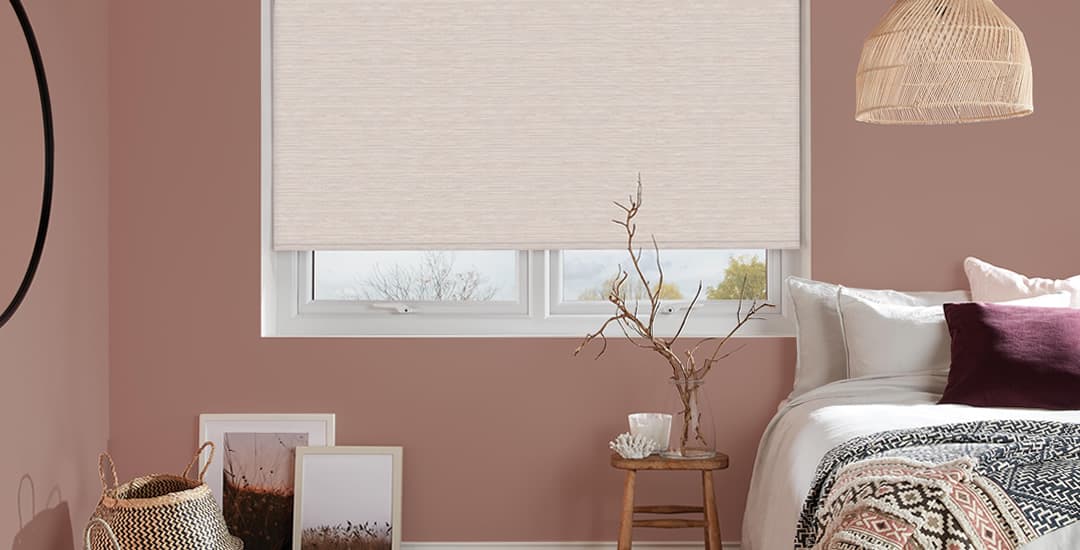 Let's start with a basic outline of what blinds are blackout blinds, either because that's what they're designed to be or because that's just a happy coincidence due to their key traits.
Roman blinds, roller blinds, vertical blinds, day and night blinds, and perfect fit blinds can all be made in blackout fabrics.
Blinds of these types are not made of blackout fabrics by default; the blackout version is made with a special coating or potentially, lining, which allows you to choose the fabric and finish you want as well as having them achieve a blackout effect.
Venetian blinds, real wood blinds, and faux-wood blind materials (aluminium, wood-effect PVC, and wood respectively) all achieve a blackout effect, as they're made of solid materials rather than a fabric.
However, slatted blinds like Venetians, real wood, and faux-wood blinds have either lift cords or in some cases, ladder tapes running along their length at various points; these support the blind's weight, and allow it to be raised and lowered.
Lift cords pass through the slats themselves, and may let a small amount of light through as a result. Ladder tapes pass over the slats, and so negate this problem.
Generally, wooden blinds or faux-wood blinds can be made with either lift cords or ladder tapes, and this is a choice you can make when you order them. Aluminium Venetian blinds only come with lift cords.
Plot twist…
As you can probably determine from the above section, any style of blind can either be made in a blackout fabric, or is made of a solid material that keeps out the light by nature. This means that the question of which blinds are best for blackout (if you take the issue of lift cords on Venetian blinds out of the equation) depends on how they're hung far more than it does on what they're made of or how they operate.
What do I mean by this? Ok, so other than perfect fit blinds, blinds hang either inside of or over the window recess, rather than being fixed to the window directly. The blind doesn't form a seal on the window, and so light can and maybe will leak out around the sides of the blind to a degree.
How extreme this effect is depends on a couple of factors – how far the blind stands out from its fittings, whether the blind is hung inside or outside of the window recess, and if outside of the recess, how wide a margin of the wall it covers too.
Choosing the best blackout blinds largely depends on how you hang them
As mentioned, there are two ways of hanging window blinds, and these are hanging them right over the window recess, or hanging them inside of the recess itself.
If you hang a blind inside of the window recess, you don't have the option of having it made a meaningful amount wider than the window in order to reduce light leakage around the sides of it. However, it will sit closer to the window itself than a blind hung over the recess.
If you hang a blind outside of the window recess, you can have it made with a margin around all four sides of the actual window aperture itself (we recommend at least 10cm) which helps to greatly reduce or often, entirely negate light leakage around the sides.
Also, different types of blinds stick out from their fixings by different amounts, and the further they stick out, the more potential light leakage around their sides will occur.
For instance, a blind that stands out fairly proud from the wall due to the depth of its headrail and how it hangs will provide more of an opportunity for light leakage than one that is narrow and so, makes the blind sit closely to the wall or window.
Key takeaway: Fitting your blind over the window recess rather than inside of the window recess results in a more effective blackout effect; with wide enough margins, this will be a total or almost-total blackout.
The best blackout blinds bring a friend…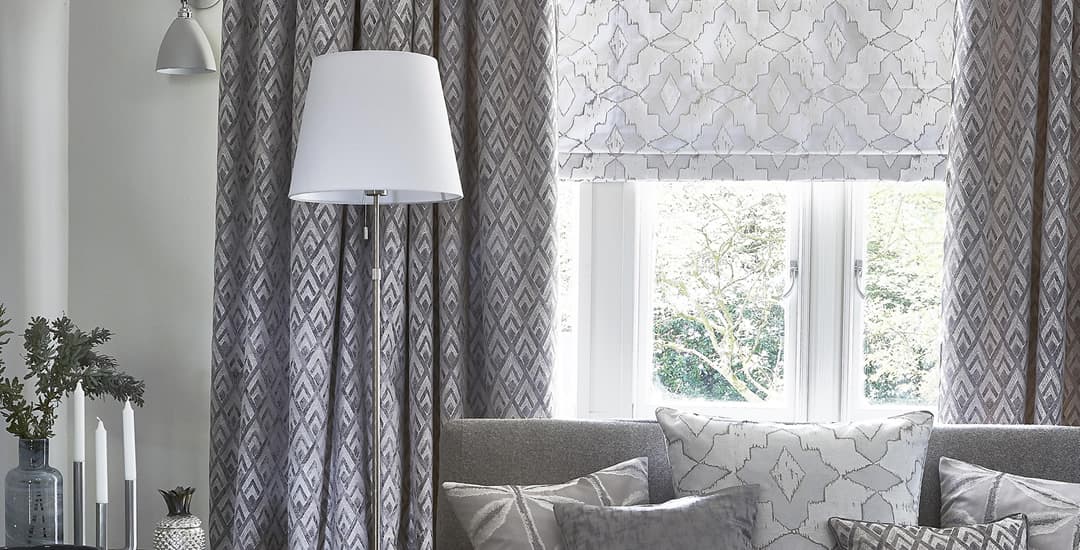 If even a small amount of light leakage around a blind is going to be a big drama for you (and to be clear, while light leakage can potentially happen, it is not always guaranteed to with every blind and/or fixing arrangement) then there is one sure-fire guaranteed way to ensure your blackout blinds don't let in any light at all. This is to double them up.
By this I mean, hanging one blackout blind inside of the window recess, and also hanging another blackout blind (of the same type or in a totally different style entirely if you wish) over the window recess too. This will positively, definitely, absolutely result in 100% light blocking with zero light leakage.
Also, you can use blackout curtains over the window recess with a blackout blind inside of it as an alternative if you want to switch things up style-wise; a pair of opulent curtains over the window recess looks particularly chic-tacular paired with a super-fancy Roman blind doing the hard work on the inside of the window recess.
Which blinds are best for blackout when used alone?
I really cannot overstate the fact that the best blinds for blackout functionality are those that are hung in such a way as to avoid light leakage, rather than those made of a certain fabric or in a certain style.
With this caveat in mind though, if you're the type of person who only came for a definitive, direct answer and by gosh, that answer should surely be in list form, here you go:
The best blackout blinds are honeycomb cellular pleated perfect fit blinds in blackout fabric. These fit onto/into the window itself and totally negate the issue of any potential light leakage.
The second-best blackout blinds are Roman blinds. They have a narrow headrail (which means they sit close to the wall or window, reducing light leakage), and are made of thick fabric even before you get to adding the blackout lining.
Blackout roller blinds come third. These are the most popular and also, cost-effective type of blackout blinds we sell overall.
It's how you fit them, seriously
People, blinds-buyers included, love lists, and everyone likes a definitive answer to a direct question, which is why I have drawn up the above top three blackout blinds ranking up for you.
But I do just want to reiterate once more, that every blind that's either made of a solid material or that is made specifically with blackout powers will work for 99.9% of people, as long as you hang them with avoiding light leakage in mind.
And if you do double up (aside from for perfect fit blinds, for which this is not warranted) as per my suggestion earlier on, every single blind on this list will perform just as well as every other blind on the list.
Are there any genuine total darkness blinds?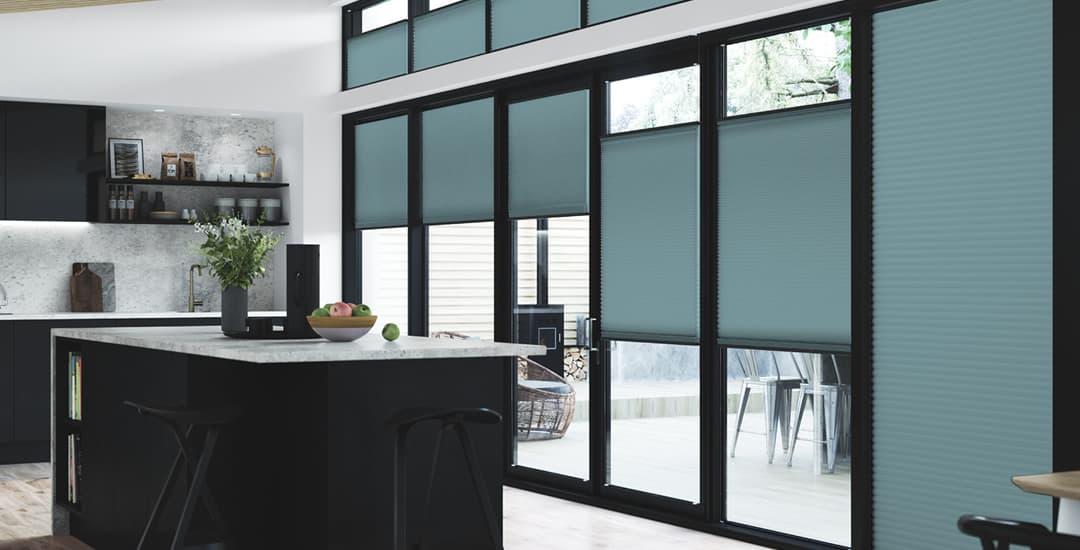 Yes, and these are blackout honeycomb cellular pleated perfect fit blinds, and choosing perfect fit blinds in a blackout material will allow you to achieve 100% blackout without the need to consider doubling up with two sets of blinds instead.
This is a point worth bearing in mind if you're pricing up your options too, partially because perfect fit blinds fall towards the top of the price spectrum of window blinds. But if your goal is total blackout when the blinds are closed and at the lowest cost, you'd only need to buy one perfect fit blind to achieve this; while you'd need to double up, as I mentioned earlier on, with any other flavour of blinds and so, pay twice the cost of buying just one blind.
Happy napping!