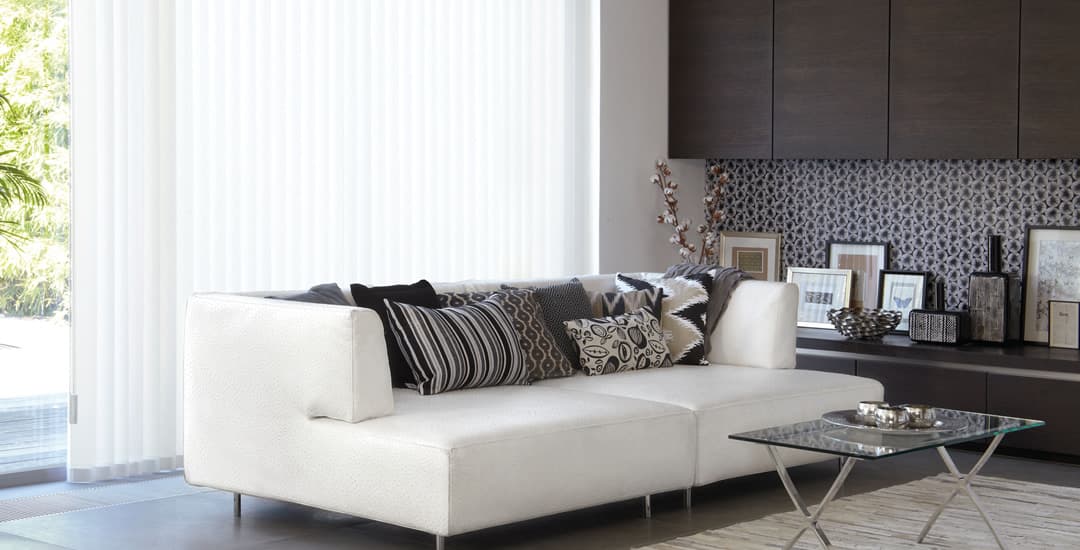 Are vertical blinds outdated? Pretty much everyone knows what vertical blinds are, and they've certainly been around for a very long time. In fact, if you were to ask a reasonable number of people to describe vertical blinds, about 50% of them would give some version of "they're blinds that hang vertically in strips rather than horizontally in slats," and the other 50% would tell you that they're "the sort of blinds you see in offices, in various shades of off-white and beige."
This latter descriptive sort of summarises the main reason for the question "are vertical blinds outdated" being raised in the first place; and if you do think of beige/off-white office blinds when you bring verticals to mind, then yes, these almost certainly are outdated, and there's a good chance they've been hanging around (sorry, I do love a dodgy blinds pun) since the mid-70s or even earlier.
However, vertical blinds are not just a one-trick office pony, and modern vertical blinds look vastly different to the off-white, dingy, tangle-stranded workplace blinds of yore.
In fact, they're undergoing a serious resurgence at the moment and featuring in a lot of very modern interiors, as well as seeing a lot of love from style consultants in the glossy magazines; to the point that they're becoming real go-to staples for home window blinds today, rather than being considered solely the preserve of the workplace.
The sheer range of colours, textures, and finishes that vertical blinds can be made in, plus the modern, sleek header rail designs of the present day mean that they're well worth a second look, if only to satisfy your curiosity!
So, are vertical blinds outdated? UK audience opinions are the ones I'll be talking about in the main here as they're the folk we sell our blinds to, but this information does largely hold good away from our hallowed shores too. Read on to find out more.
Are vertical blinds still in style?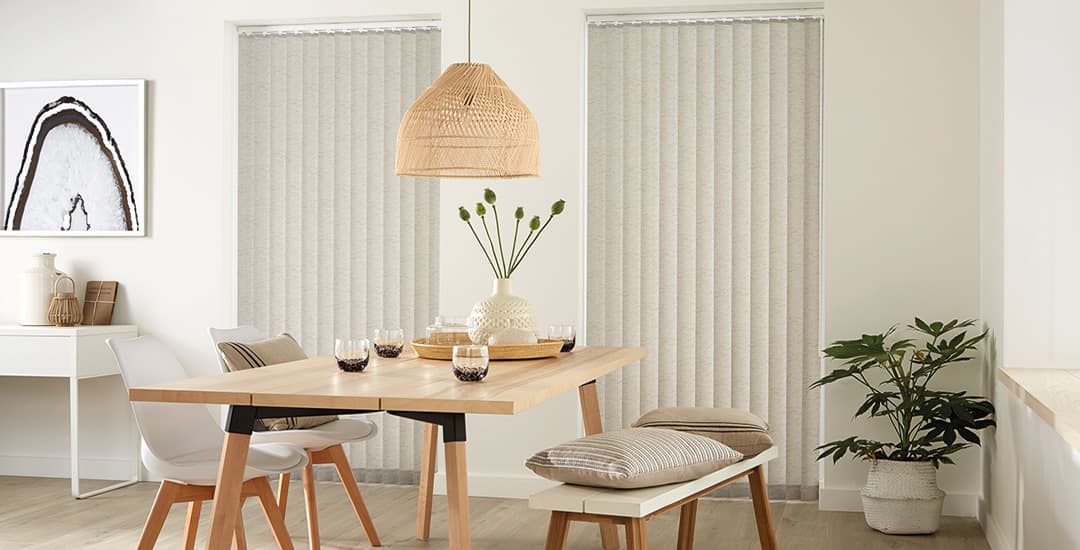 It could fairly be argued that office-type vertical blinds were never in style to start with, and so "still" might be something of a moot point here!
However, the reason that vertical blinds have stood the test of time, going from times when they were objectively often a bit of an eyesore right up until the present day is due to their simplicity, functional elegance, versatility, and robustness.
They offer a superior degree of light and privacy control, are lightweight to operate, can be made to fit large or generally awkward windows, and are hardwearing and easy to clean.
Match this with the huge range of options for modern fabrics, controls, and visual components, and vertical blinds are actually pretty close to the top of the tree in terms of styling versatility and visual impact.
One factor that's always worth a mention when looking at the pros and cons of blinds is price; and compared to most alternative options, vertical blinds tend to be among the most cost-effective, more or less on a par with or just a shade above roller blinds.
This is thanks to their simple yet effective design, and they also have the advantage over roller blinds that you have a greater degree of light and privacy control with verticals too, and when it comes to blinds for larger windows, you're unlikely to find a more economical option overall.
On which note, vertical blinds are one of the options for large, tall, or wide windows, and other "difficult" applications like patio doors, bay windows, and conservatories. Appearance-wise and in terms of function, they're a good choice for every room of the home, and have a small footprint when fully opened, to retain the view from your windows without taking up a lot of space when folded out of the way.
Vertical blind versatility in terms of being able to handle moisture and humidity, filter light, increase privacy, and even block light entirely in blackout options, as well as ease of maintenance and low hassle on the cleaning front, have all helped to keep vertical blinds in demand and in style for many decades now, even as tastes change.
Why are vertical blinds in fashion?
Are vertical blinds in fashion today? Yes, largely because their minimalistic hanging louvres, huge range of colours and finishes, and variety of ultra-modern header rail options ensure that they are! Vertical blinds in fashion magazines and interiors catalogues tick all of the current trend boxes with sleek, modern-looking header rails available in finishes such as anthracite and matt or gloss black as well as subtler neutrals, with the louvres themselves chosen to either complement or contrast with the header rail and overall style of the room.
Even the shape of the vertical blind's modern headrail has evolved with the times; a streamlined, contoured rail with smoothed corners rather than the blocky, ribbed design of old means that today's vertical blinds for homes bear virtually no resemblance to their 70s-vintage office-bound cousins.
The range of fabrics and finishes you can choose for vertical blinds is more extensive than virtually any other option either, other than perhaps roller blinds, and is expanding all the time; encompassing everything from beautiful jacquard weaves to sumptuous suedes, grass effects, and a rainbow of contemporary colourways.
Finally, vertical blind fabrics come in waterproof options and also blackout materials, making them one of the few blinds that suit every room of the home – including more challenging ones like kitchens and bathrooms where humidity and direct contact with water need to be factored in and style sometimes otherwise needs to be sacrificed to functionality.