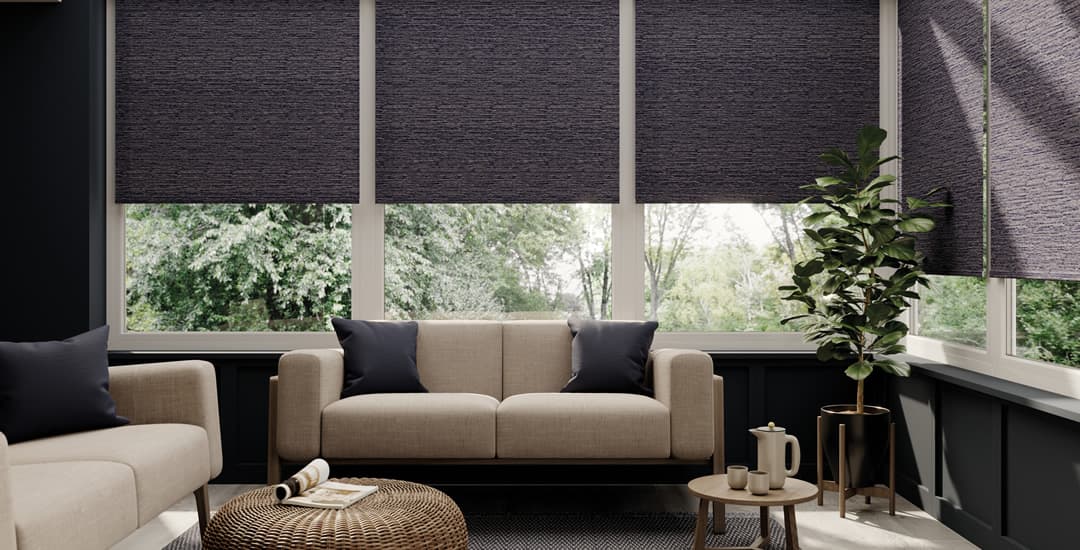 The benefits of roller blinds are fairly comprehensive, and they're definitely the most common and popular style of blinds in the UK. The range of colours, designs, and patterns they can be made in far exceeds that of any other type of blind, and they can also be made in both blackout and waterproof fabrics, and with thermally efficient linings too.
This is just the beginning; and it is also worth mentioning that roller blinds tend to be the most economical type of blinds to buy. In this blog post I'll cover all of the benefits of roller blinds and for the sake of balance, point out pretty much their only potential disadvantage too.
What are the advantages of roller blinds in terms of pricing?
First up, roller blinds are the lowest cost type of blind to buy overall when comparing like for like to other blind types. This might well be important to you if you're on a budget or shopping for blinds for every window of your home; but roller blinds certainly aren't a cheap or second-rate option, or the type of blinds you'd only pick if you can't afford anything better.
Roller blinds are the most popular type of blinds in the UK largely because they're the best all-rounders, and come in the greatest range of options, with their reasonable cost just the cherry on the top!
What are the advantages of roller blinds in terms of variety and choice?
Roller blinds come in a wider range of colours, patterns, and designs than any other type of blind; there are literally thousands of options available on the UK market. They're also the only blinds that are sometimes produced in designer collab fabrics, and in the sort of funky patterns and designs that kids love for their bedrooms.
Wherever you're shopping, the catalogue of options for roller blinds will always be far more extensive than that for any other blinds type.
What are the benefits of roller blinds in terms of applications?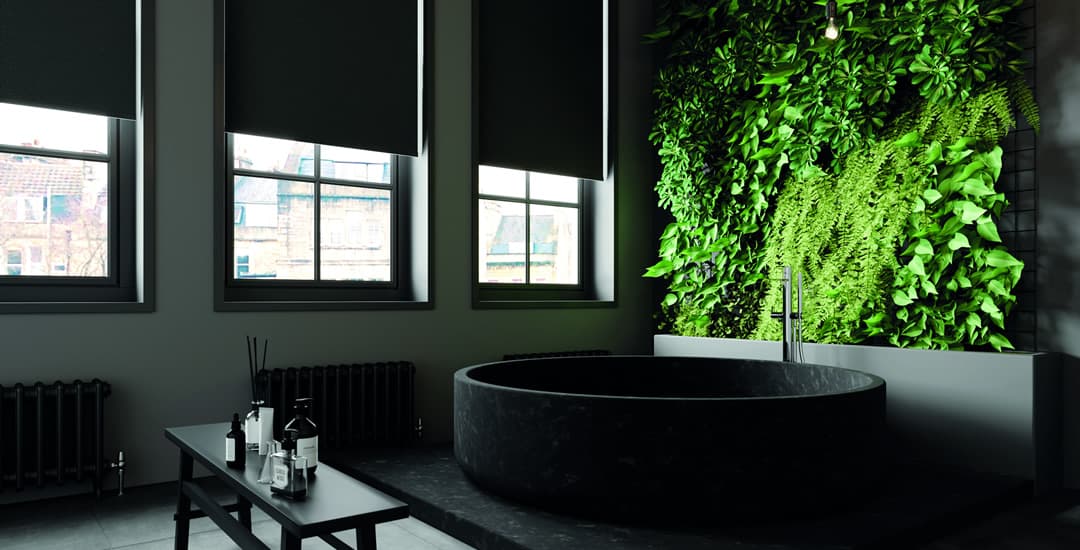 Some blinds can't be used in some rooms, or at least, not without damaging the blind; for instance, fabric blinds and real wood blinds will soon suffer if used in a humid environment like a kitchen or a bathroom.
Roller blinds are the any-room blind; they come in a range of materials and options that enable them to meet the challenges of any room of the home.
For bedrooms (and other applications) you can choose between roller blinds with blackout linings, or if you're not a fan of total darkness, dimout fabrics of various degrees of thickness.
Standard roller blinds are made of polyester, but they're also widely sold in waterproof PVC or vinyl options too, which means they're great for bathrooms and kitchens, won't fall apart due to humidity, don't absorb water and muck, and are easy to wipe clean; all traits that make them a good fit for a kid's playroom too.
Another point well worth mentioning when it comes to roller blinds is that they can be made with a thermally efficient lining, which is one of the most cost-effective ways to insulate your windows and make a tangible difference to your comfort levels in terms of winter warmth, and to potentially reduce your heating bills as a result too.
What are the advantages of roller blinds you fit yourself at home?
It's less common to find blinds companies or general handymen who offer a blinds measuring and fitting service these days, as this is really easy and quick to do yourself, and saves you from paying a potentially steep hike in the price of your blinds to account for the cost of the measuring and fitting.
Roller blinds are actually the easiest and quickest type of blinds to fit from start to finish, and they're also very light, which means they're not unwieldy to handle when you're trying to put them up.
What are the benefits of roller blinds in terms of their design?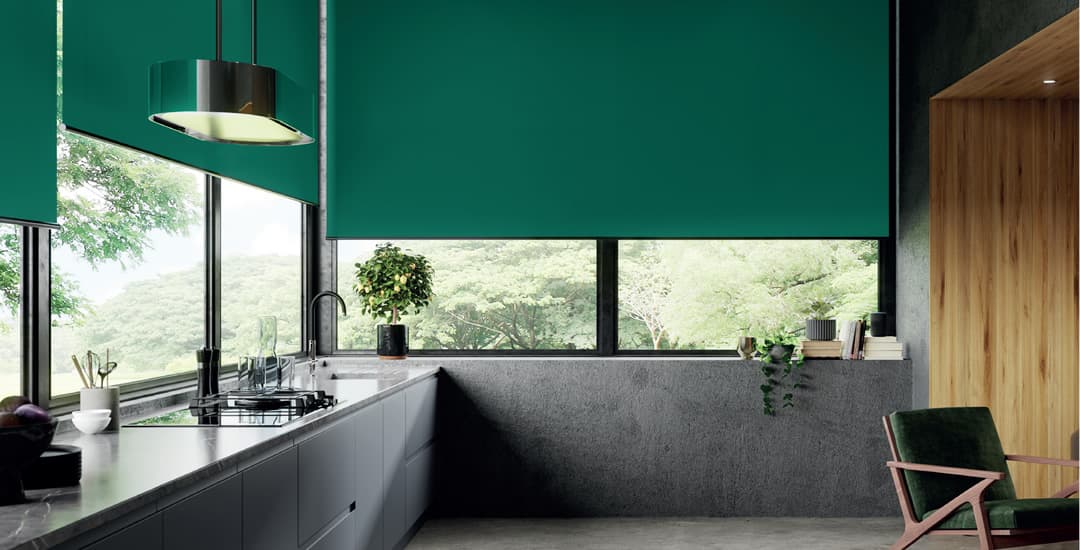 The fact that roller blinds are light also means that they can be made in larger sizes; up to 3m by 3m, which is suitable for most sets of patio doors, while most other blind types top out well before this due to the issue of their weight.
Roller blinds also roll up around their tubes rather than pleating into a row of slats or louvres, or concertinaing up like a Roman blind does; this may be important for people who have limited wall space above their window, or that don't want their blind to obscure a reasonable chunk of the window's glass when the blind is open.
They also have a small footprint on the windowsill itself too, which means that you don't lose use of the windowsill like you would with some other types of blinds.
What are the disadvantages of roller blinds?
There is no serious downside to roller blinds, nor any room or application that they're abjectly unsuitable for, but there is one trait that they don't possess that some other types of blinds do; the ability to filter light and control privacy rather than simply opening and closing the blind.
Blinds with slats (like the various types of Venetian blinds) and louvres (vertical blinds) all offer a high degree of control over light filtering and privacy management; as do day and night blinds, which are in fact a type of roller blind in their own right, sharing many of the key traits rollers have, like a low weight and a small footprint.
Are roller blinds better than Venetian blinds?
Following on from the above point, if you're looking for a blind that can filter the light without blocking it, or the view, entirely – such as if you're trying to watch TV during the day, suffering from screen glare on your PC, or have a window that is very overlooked – Venetian blinds have the edge.
Venetian blinds can be made of wood, faux-wood and most commonly, aluminium; and they're all constructed of slats that can be tilted to the angle of your choice. On the downside, wood and faux-wood Venetian blinds are quite a step up in price from rollers, are heavier, and cannot be made in such large sizes.
Aluminium Venetian blinds are a lot lighter, but not so great at insulating the window; and all three types of Venetians form a fairly chunky stack at the top of the window when the blind is up.
Are roller blinds better than Venetian blinds though? This isn't really a case of one blind being better than the other, as they're so different; so for one application or personal preference the roller blind will be the better or preferred choice, while for another, a blind from the Venetians family would be a more appropriate pick.