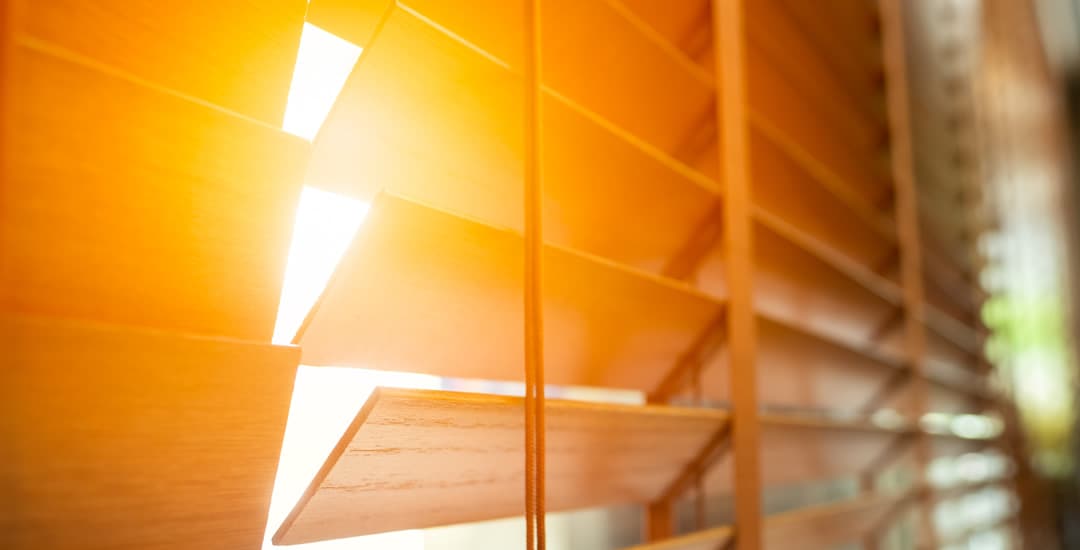 Do real wood blinds warp in the sun? No, not if you buy good quality wooden blinds that are made of a suitable wood that is itself properly processed and treated.
However, warping can occur if the blind's maker uses the wrong type of wood for the job at hand, or if said wood isn't properly treated before use; but even so, this isn't actually because of the sun per se, albeit the sun/heat can contribute to the issue.
This blog post will tell you firstly if the wooden blinds made and sold by us here at English blinds will warp in the sun, and then explain why wooden blinds of other types might warp, and what to look for when buying wooden blinds to ensure that yours won't.
Do wooden blinds from English Blinds warp in the sun?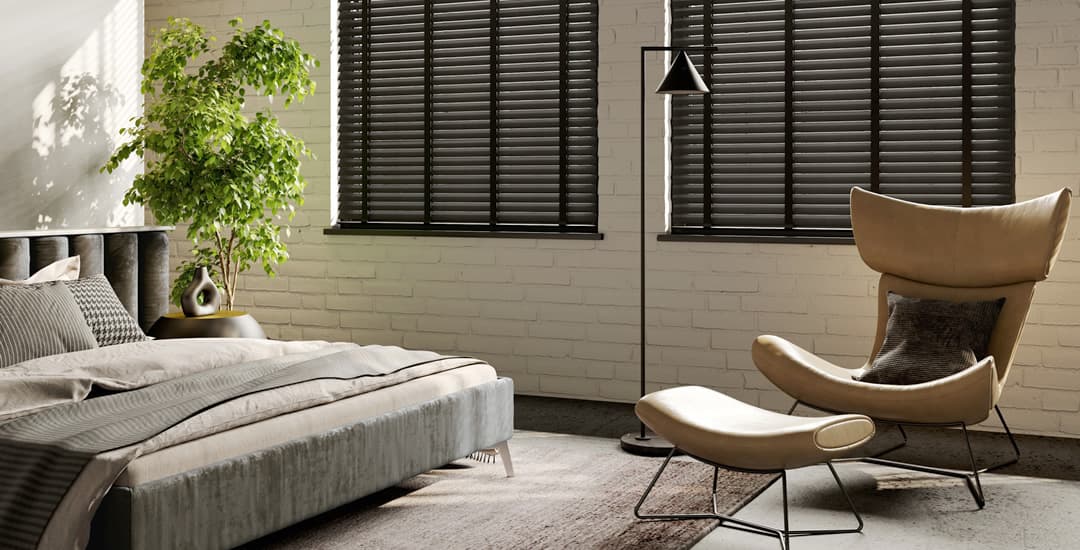 If you literally only came here to find out if the wooden blinds we here at English Blinds sell will warp in the sun or not, that's a "not."
Our wooden blinds are made from a wood that is specifically chosen, processed, and fabricated in order to ensure that this doesn't happen. We've been manufacturing real wood Venetian blinds since the 1980s and in that entire time, we have never known of one of our blinds warping.
We actually have two real wooden blinds that we made in the early 1990s hanging in one of our workshop's windows and still in daily use; and not (just) because we're too cheap to redecorate.
Penny pinching aside, the purpose of this is because we deliberately retain samples of our blinds of each type from each era and keep them in daily use for the long term as part of our quality control protocols, so that we can determine how long they last, why they ultimately fail, and how well they withstand different types of conditions.
This is also why, should you drive past Blinds Towers at night (we're in Solihull if you fancy an outing) you will see our castle snugly tucked in with closed blinds on every window, and a right random mish-mash assortment of blinds of various types and ages at that, for this specific reason. (The quality control one, not the penny pinching one.)
Anyway, about why our wooden blinds won't warp in the sun.
Our wooden blinds are made from basswood, which is strong, light, and highly resistant to warping once the wood has been dried and processed. Under normal usage conditions in the appropriate environment (which means using them in rooms that don't get overly humid or steamed up; so not the kitchen or bathroom), their slats won't twist or warp. Ever.
Basswood is considered to be the most durable and hardwearing type of wood for making blinds, and the basswood that we use is kiln dried to ensure maximum stability and uniform drying, and to ensure that the slats of our blinds won't warp in the sun over the long term.
Why do wooden blinds warp in the sun (for those that do)?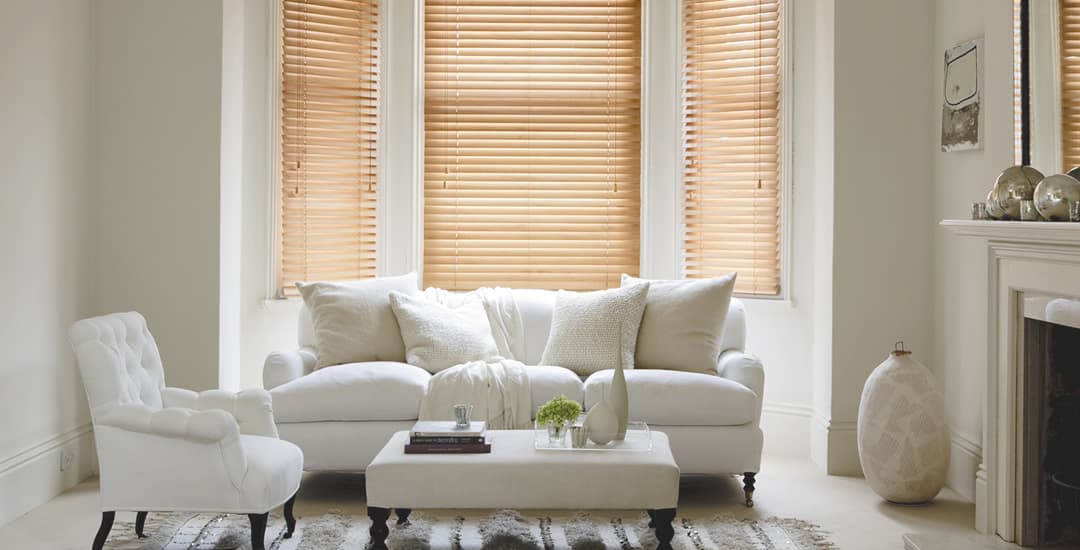 Some wooden blinds may warp, depending on the wood they're made from, the treatment process they undergo, and their ultimate quality. This isn't luck of the draw, however; and wooden blinds that warp in the sun do so for specific reasons.
Wooden blinds might warp in the sun if they're made of a wood unsuited to the task. Hardwoods are best for making wooden blinds, like the basswood we use for ours, because it is both an excellent material to make long lasting wooden blinds from and because it is sustainably grown and ethically produced. Other woods are far less suitable, including all softwoods such as pine; although we can finish our basswood wooden blinds in a pine effect to match other pine furniture you might have if you want that!
Also, the treatment and preparation of wood used for blinds is a vital part of the process too, because wood needs to be dried out properly before it is used. All natural woods contain a level of naturally occurring moisture, and so they need to be dried evenly to remove this and to prevent the blind's slats from twisting or warping in use.
Why do real wood blinds warp in the sun if they're not the right wood or are not properly treated?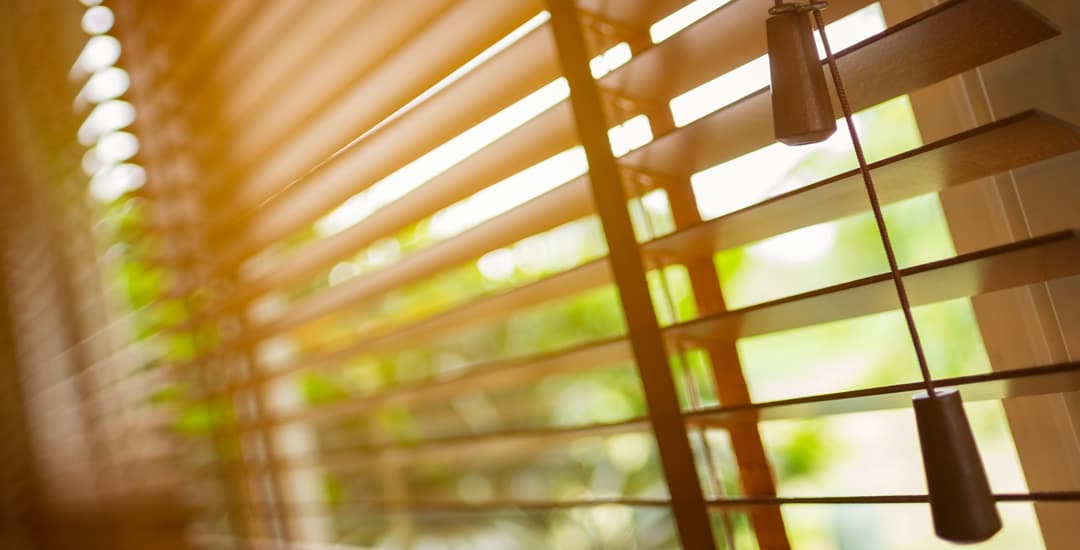 Ok, so plot twist.
The whole "do wooden blinds warp in the sun" thing is something of a trick question. This is because it's not actually the sun that's causing the blind to warp, should this happen; it is moisture present in the wood.
Exposure to sun (or heat, or even just ambient room temperature over time) draws any present moisture out of the wood and so, can cause the warping or twisting that we're talking about. But sunlight itself doesn't cause a wooden blind to warp, as evinced by the fact that properly treated wooden blinds don't warp at all.
Real wooden blinds are actually the type of blind that is in fact the most resistant to the effects of the sun and hot temperatures, and so sunlight itself is not an issue!
Warping in wooden blinds happens because the blind absorbs moisture from the air (such as if the blind is hung in a bathroom) or because the wood dried unevenly or at different rates during the drying and treatment process. Either of these things can result in the wood swelling and contracting as it dries and the water works its way out, ergo, causing warping.
It's the moisture that causes this warping, not the sun; although the sun/heat can draw moisture out and expedite or trigger the process.
Do all real wood blinds warp in the sun eventually when they get old enough?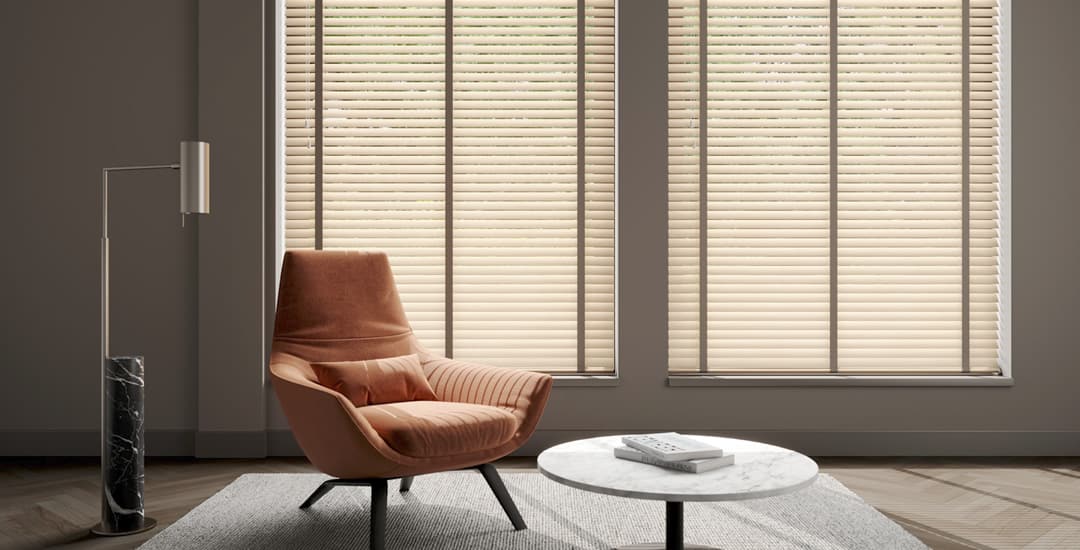 Not if you get good quality wooden blinds made of a suitable wood that has been dried and treated properly. That said, any wooden blind, even the absolute best ones like ours, will warp eventually if they're exposed to a lot of atmospheric moisture.
This is why wooden blinds can't be used in the majority of kitchens and bathrooms, because direct contact with water, or steam, humidity, and condensation imbues the slats of the blind over time, and when the blind does begin to absorb it (wood being a natural and porous material) it will start to affect the slats and potentially cause warping or twisting.
But old age itself (for wooden blinds that were fit for purpose at the time of purchase and that aren't exposed to moisture) won't warp, even when they're very elderly and considering moving to the windows of the local retirement home to see out their twilight years in peace.
What to look for in wooden blinds that won't warp or twist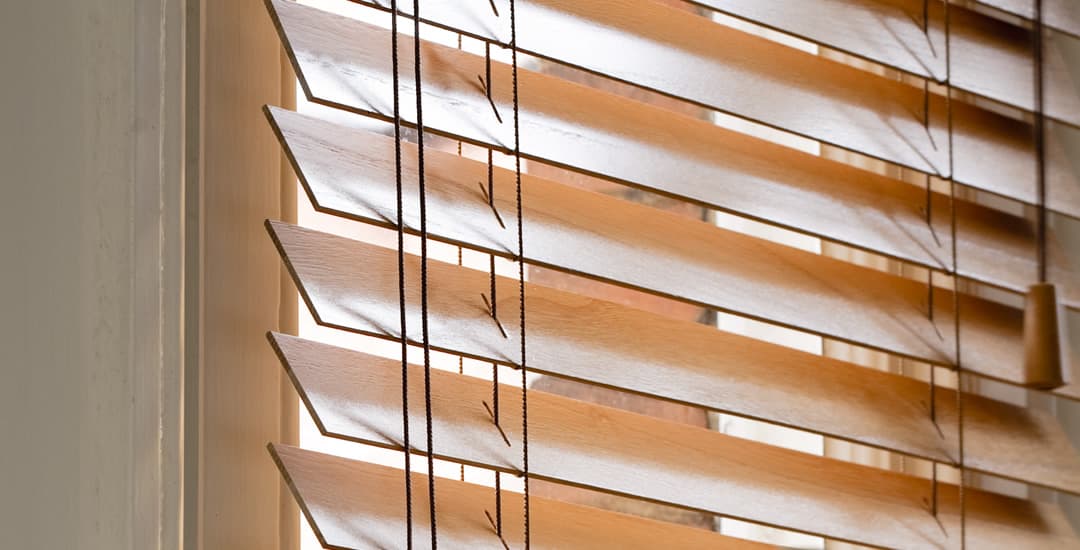 So, how can you make sure that you pick wooden blinds that won't warp, and how can you avoid buying a lemon?
I'm going to get this out of the way first, so that you can roll your eyes but move on:
Don't buy readymade wooden blinds if you want to avoid warping (and other issues).
I get that it is somewhat predictable that I would say this, being that we don't sell readymade blinds, only made to measure ones; but think again, because I need you to flip your perception here.
Readymade wooden blinds are a step cheaper to buy than well-made made-to-measure wooden blinds (and last for a far shorter period of time due to this); but trust me when I say, the profit margin on those cheaper readymades is waaaay higher.
Why aren't we making/selling these as well as or instead of our made to measure offerings then? Do we like, just hate money or something? No. No, we're really into money here, albeit for my part, this is largely because money can easily be exchanged for shoes and makeup.
We're not sniffy about readymade wooden blinds because we're competing with them for market share; we aren't.
If we wished to (and it is something we have explored for viability in the past) we too could be churning out readymade wooden blinds alongside of all of the other producers of generic mass-produced blinds, and actually making more money than we do on made to measure blinds from it too.
Why don't we then? Well, we're frowny about readymade wooden blinds because they're simply poor/patchy in terms of quality, and they cannot be made "good" in a cost-effective manner; by which I mean, being good quality, made to last, ethically produced, and well presented.
This is the crux of why we don't sell them, rather than an attempt to scare you in our direction to buy made to measure wooden blinds because we've got a readymade chip on our shoulders.
Anyway. When you're shopping for real wooden blinds and want to make sure they're not going to warp or twist, first up, kick the readymades out of your cart. The chances of you being able to identify what wood they're actually made of is low; and the chances of you being able to find out how that wood was processed, how well dried it was, and how well made it is are things you're only going to find out the hard way.
Good quality wooden blinds that won't warp or twist are made only of hardwoods – basswood being the very best according to received wisdom, and also being the best wood for sustainable forestation and long-term responsible usage.
The wood used for good wooden blinds is also properly kiln dried under controlled conditions, which is quality assured and tested (yes, the moisture levels of any given bit of wood can actually be measured) and this is all designed to provide a total uniform dry before the wood is turned into blinds.
What wood is used and how it is treated/how its quality is assured are things you should be able to find out with ease from well regarded makers of made to measure wooden blinds. If the info isn't on the product page or category page for the blinds themselves, just email or ask and you should get a well-informed response.
You also want to look for a blinds manufacturer/retailer that's been around a while and so, that knows and can verify the sort of lifespan and longevity of the blinds they offer; as evinced by their own statements on the lifespan of their blinds and their customer service feedback too.
Finally! And this is a big'un because you have a part to play here too in ensuring your wooden blind doesn't warp… Make sure you only pick wooden blinds for "dry" rooms, as if you use them in the average kitchen, bathroom, or even possibly a utility room or laundry/drying room, even the best quality real wood blinds might eventually warp from exposure to moisture.
Thank you for listening.
Got questions?
If you want to know anything else about wooden blinds; in general, or specific to ours (perhaps you want to know more about how we ensure that the wood for our wooden blinds is sustainably grown and ethically sourced, which is great because I can talk at length on their eco-credentials) then drop me a line or leave a comment.