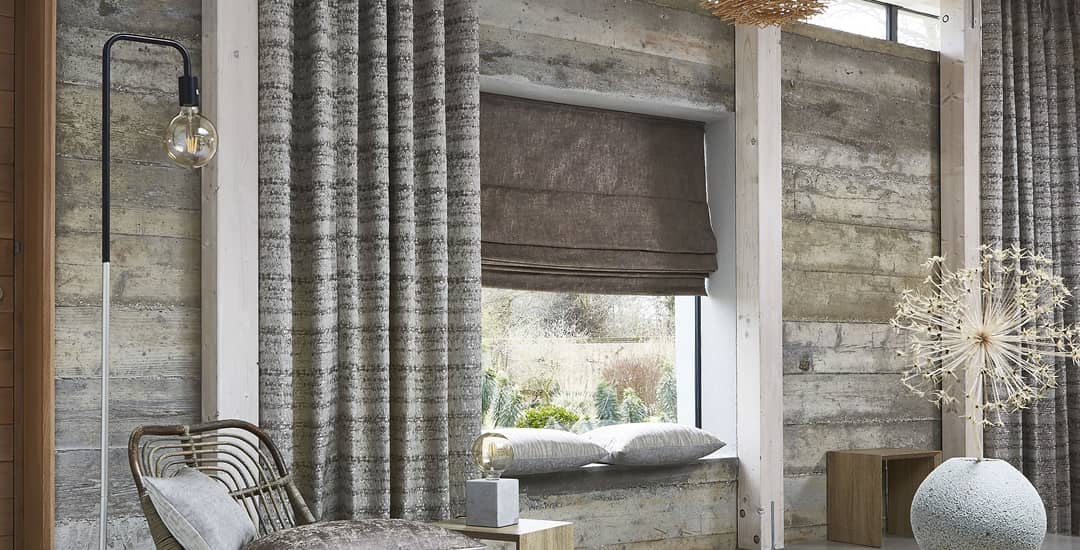 Are Roman blinds old fashioned? Not in and of themselves, no. Asking questions like "are Roman blinds still in style" is a bit like asking if dresses are in style; it depends on the dress, or blind, and your interpretation of style for that matter too!
You can definitely get old fashioned-looking Roman blinds, or more to the point, blinds that have been around for so long they're on the verge of going full circle from bang up to date in the 1970s when they were made, to a bit out of style, to hilariously dated, to "coolest windows on the street" once again.
You can also get hugely modern-looking contemporary Roman blinds in almost futuristic-looking fabrics and finishes; Roman blinds of different styles work equally well in both traditional or even period properties, and contemporary minimalistic rooms too.
In this blog post I'll take a quick look at whether or not Roman blinds are popular today, how they operate, and for starters, what they actually are!
What are Roman blinds? (Old fashioned or otherwise…)
The term "Roman blinds" refers to a specific style and appearance of blinds as well as the way it works. Roman blinds are constructed of a piece of soft fabric that is designed to fold up into pleats as it is raised, which is achieved by using a control chain that loops around a geared wheel as the method of operation.
As well as the functional traits that dictate a Roman blind, they're also widely considered to be fairly high-end blinds, which tend to be made of premium and often quite costly fabrics, designed as a luxury product that is finished to a high standard and that immediately reflects this in its quality and prestige.
When did Roman blinds first become a thing?
Perhaps one of the reasons why people sometimes ask questions along the lines of "are Roman blinds old fashioned" is because they've been around for so long.
More or less everyone has seen an old, stuffy-looking blind in a period property or older person's home that also happens to be a Roman; the kind of blind that were it a person, you'd find hard to imagine ever having had a childhood, as opposed to having been hatched fully formed into the world and already bald at around the age of 30.
So, when did Roman blinds first go into production? Probably earlier than you think, even if you have seen a set that appear to be older than Methuselah. The origins of the blinds we today call Romans can be traced all the way back to the Colosseum (in Rome, shockingly enough), dating from around 70-80 AD.
Are Roman blinds popular today?
The fact that we're still doing a roaring trade in Roman blinds some 2,000 years on from their inception means that it's probably fair to say that they are not, and never will become, just a fad or passing trend!
But are Roman blinds popular today? Yes, and if anything they're becoming more, not less popular. Roman blinds have undergone a level of modernisation over the last couple of decades in terms of how they operate. Historically, the fabric part of the blind would have been attached to a wooden batten with a system of pulleys and cords to this to enable it to operate, which could potentially be described as a little clunky or overly complex.
Today's Roman blinds are instead fitted with a sleek, modern aluminium headrail with a hidden Velcro attachment to allow the fabric part to be hung – and removed for cleaning as needed – with ease. Their controls too have been updated, using a geared wheel and chain system to raise and lower them, providing a sleeker, neater appearance and a greater degree of control over the blind's positioning too.
Roman blinds fabrics have always been higher-end, luxurious, and sometimes very finely detailed and potentially somewhat delicate too. While this remains the case for some fabrics, more easy-care, modern fabrics (including synthetics) are all options too, and Roman blind fabric itself is treated with a special protective agent to greatly reduce or even negate entirely the potential problem of the fabric fading over time due to exposure to bright sunlight.
Roman blinds are child friendly too, in line with the latest British standards.
Why are Roman blinds popular today?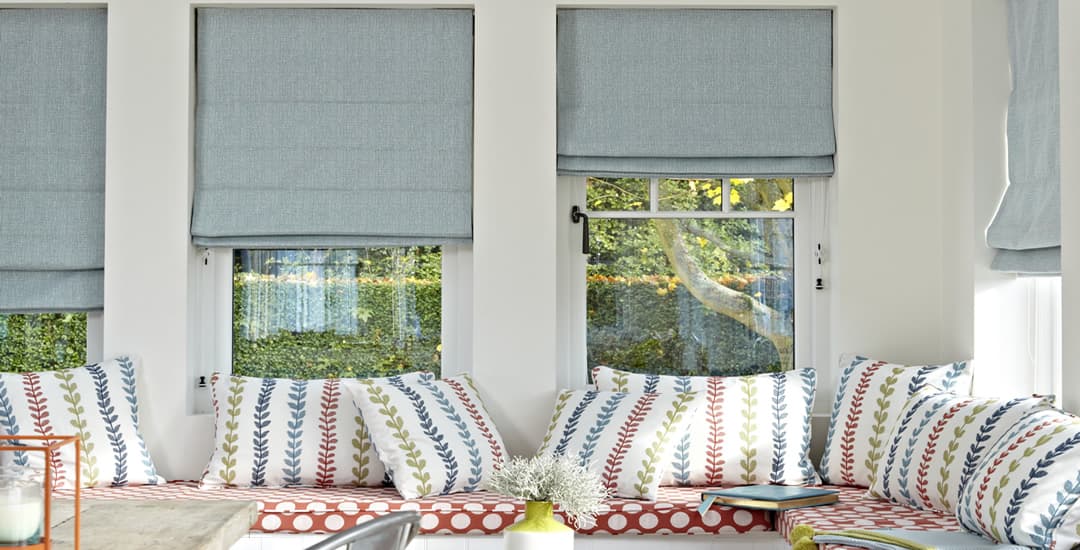 A large part of the popularity of Roman blinds today comes from the greater ease of access Joe Shopper has to them, thanks to the power of the internet.
You can find Roman blinds for sale online with no hassle at all, view extensive ranges of colours and finishes, get instructions on how to measure up, and input your own measurements to generate an immediate price, fine-tuned with your own choices in terms of fabric types and control mechanism… And then buy immediately online.
You can even order fabric samples to review before you shell out any money on an order, all from the comfort of your own sofa.
While made-to-measure Roman blinds will invariably cost more in terms of initial purchase price than mass-produced high street offerings in theoretically standard window sizes, they're still far less costly like for like today than they were back in the day.
Up until The Internet Happened, you'd probably have had to shop around at a number of brick-and-mortar retailer showrooms, have someone come and measure up, wait weeks or even months for them to be produced, and then have a team come around and fit them for you too.
All of this means that Roman blinds are far more accessible today – oh, and I can't help repeatedly pointing this out in every blog post I write (so it seems), but while modern made-to-measure Roman blinds do cost more to buy that readymade Romans, but they will also outlast them by a significant enough ratio to mean they're actually the more economical choice in the long term.
Roman blinds then, are no longer the preserve of period homes and the types of modern properties that end up on the pages of glossy magazines, and they're available in far more styles than those designed to suit homes of that type too.
They're arguably the most sumptuous, luxurious, and prestigious type of window blind, and whether you live in a chateau or a two-bedroom terrace, who doesn't need a little luxury in their life now and then? There isn't a style of window they look jarring in or won't work on, nor an interiors style or design ethos that they cannot be made to complement.
There are literally thousands of different options for Roman blinds fabrics, and new collections and styles are released every year, meaning that every comprehensive Roman blind range will encompass both classical designs, and the latest interiors preferences and trends too.
Are Roman blinds on trend?
Are Roman blinds "on trend" then? Huh. "Trend" is a bit of an "emperor's new clothes" thing to me; I think of it as being like someone else deciding your preferences for you, and also, that "someone" is apt to be superseded by a different "someone" in short order.
This means that if you follow trends too seriously or prioritise trends over personal preferences, you're always going to be playing catch-up and investing in goods and ethos's you may not actively like, or even in some cases dislike.
Circling back to the point I made in the intro, "are Roman blinds on trend" is much like saying "are dresses on trend." It depends on the blind, or dress; you'll be able to get ones that are "on trend," those that are "so last year" those that are "little black dress/blind," and those that are pure cosplay alike, all usually within the same range.
Are Roman blinds still in style?
Yes, because they're versatile, and in terms of interiors styling and preferences, these tend to move in slow circles; when a thing (like Roman blinds) fall out of style in one given setting or with a certain demographic, they tend to get uptake from another one in short order.
This is how come those of us of around the age of 40 will tend to know (or know of) a few people aged about 80 called "Archie" or "Dot," as well as a few under-fives with the same name, and not a lot in between.
There is a style of Roman blinds for everyone when it comes to fabric and finish; the only question you have left to answer then, is if you like the functional design and potential applications of Roman blinds as a type, better than those of an alternative like Venetian blinds or roller blinds!